Woman Arrested in Stolen Records Case
Incident at Wake Forest Baptist Medical Center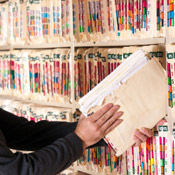 A North Carolina woman has been arrested on a charge of larceny in a case involving medical records of patients at Wake Forest Baptist Medical Center in Winston-Salem.

Linda Bowden Turner, a former hospital employee, turned herself in Wednesday and will appear in court on the charges June 17, according to the Winston-Salem Journal. The case stems from the discovery of boxes of medical records at rental property owned by Turner as well as at other properties.

The hospital told the newspaper that it confirmed Turner owned the rental home where some patient records were found. The hospital says staff retrieved paper documents from at least two other sites that Turner either had access to or owned, the newspaper reports. The hospital has not yet confirmed how many records were involved.

A man who was staying at the rental home reported to the hospital that he discovered many medical documents, some of which contained Social Security numbers, according to local TV station Fox8/WGHP.

The hospital did not respond to multiple attempts by HealthcareInfoSecurity to obtain comment and further details.