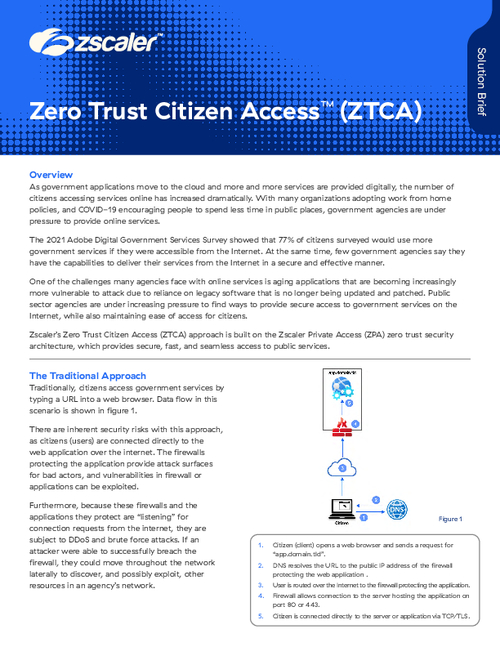 As government applications move to the cloud and more and more services are provided digitally, the number of citizens accessing services online has increased dramatically. The 2021 Adobe Digital Government Services Survey showed that 77% of citizens surveyed would use more government services if they were accessible from the Internet. At the same time, few government agencies say they have the capabilities to deliver their services from the Internet in a secure and effective manner.
Zscaler's Zero Trust Citizen AccessTM (ZTCA) approach is built on the Zscaler Private Access (ZPA) zero trust security architecture, which provides secure, fast, and seamless access to public services. ZTCA provides a complete Zero Trust architecture for government agencies by not only requiring user authentication for every citizen, but also removing firewall and application attack surfaces by "hiding" web applications - including legacy apps - from the internet, making them undiscoverable to potential attackers.
Download this Solution Brief to learn how ZTCA works, and how public agencies can rely on ZTCA to deliver real-time visibility into citizen activity, identify citizens who access applications via browsers, eliminate the public attack surface, reduce the risk of lateral movement all while greatly increasing the scalability of their services.