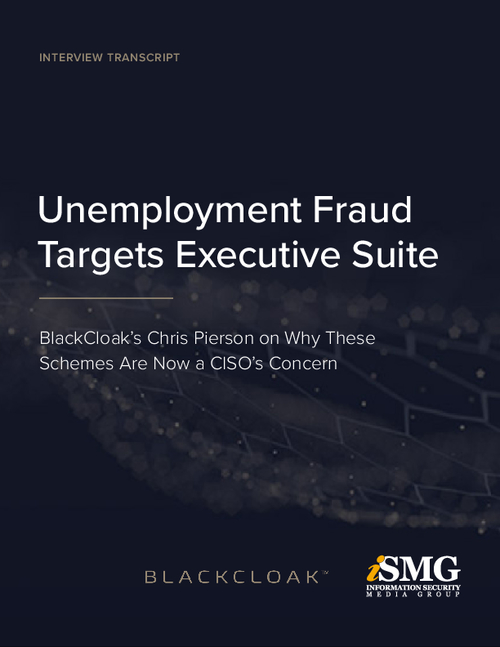 Unemployment fraud incidents have spiked in the past year, and high-salaried senior executives are often the fraudsters' victims. Dr. Christopher Pierson of BlackCloak describes how these scams are pulled off, what impact they have and how the CISO can bolster defenses.
"When a 20- or 30-person executive team is affected by unemployment fraud, the general counsel and the CISO get involved to determine whether identity theft or a breach occurred," says Pierson, CEO of the concierge cybersecurity protection firm. "The incident lands on the front doorstep of the CISO almost every time."
In an interview about unemployment fraud, Pierson discusses:
How this form of fraud now plagues the executive suite;
Why this is now a CISO challenge;
Strategies for protecting key executives in their personal lives.
Pierson is the founder and CEO of BlackCloak - a concierge cybersecurity and privacy platform for executives, board members and key personnel in their personal lives in order to protect their company. BlackCloak protects its customers from financial loss, cybercrime, hacking, reputational damage, privacy exposure and identity theft. Pierson serves on the Department of Homeland Security's Data Privacy and Integrity Advisory Committee and the DHS Cybersecurity Subcommittee and is a Distinguished Fellow of the Ponemon Institute. He has been on the front lines of cybersecurity and fighting cybercrime and has over 20 years of experience with DHS, as president of the Federal Bureau of Investigation's Arizona Infragard and in various other roles as a chief information security officer for financial companies. Pierson was a founding executive of Viewpost, a fintech payments company, serving as their CISO and general counsel, and was also the first chief privacy officer, SVP for the Royal Bank of Scotland's U.S. operations, leading its privacy and data protection program. He was also a corporate attorney for Lewis and Roca, where he established its cybersecurity practice, representing companies that had been hacked and had fallen victim to data breaches.