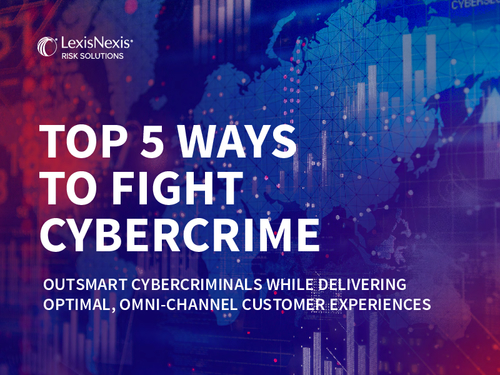 In every industry, organizations continue to merge their digital and physical services within an omni-channel ecosystem. Routes to purchase are increasingly converging with in-store experiences being replaced by, or combined with, digital offerings. Digital payment solutions have also rapidly diversified, multiplying the number of routes for consumers to transact.
This e-book from LexisNexis® Risk Solutions highlights the top 5 cybercrime challenges and explores ways to outsmart them with insights from their current Cybercrime Report. Download it today to learn where to prioritize your fraud defenses and how to protect trusted customer interactions.
About the report: The LexisNexis® Risk Solutions Cybercrime Report is based on cybercrime attacks detected by the LexisNexis® Digital Identity Network® during near real-time analysis of consumer interactions across the customer journey, from new account creations, logins, payments and other non-core transactions such as password resets and transfers.