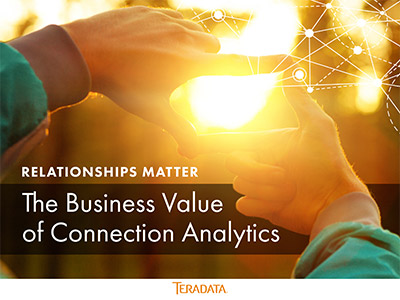 Social media is all about connections. But so is almost everything else: families, teams, computers, products, and even plants and animals.
Now we're finding ways to explore those connections and see what they can tell us. And they can tell us a lot: about the phone calls we make, the people committing fraud, the products to offer together, and more.
Of course we've always had connections, but we just didn't have a good way to find the interesting connections that are lurking in our data. Now we do; it's called connection analytics and it helps us find patterns in the way people and things of all types are related.
Download this e-Book to learn how to:
Improve profits using social network analysis in Telcos;
Break up fraud rings with graph analysis;
Use graph analytics to untangle the messy world of compliance.