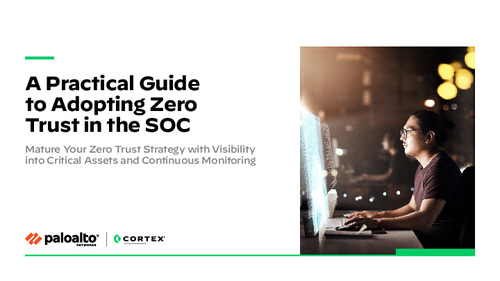 Zero Trust presents a significant change to traditional enterprise architectures, where a "trust but verify" model sufficed prior to digital transformation initiatives and pervasive cloud adoption. Today, the primary goal of Zero Trust in the SOC is the continued audit and maintenance of a strong security posture.
Yet, how do you know your Zero Trust deployment involving policies, networks and endpoints are working as it should? In a Zero Trust world, one thing that doesn't change is the SOC as the place where it all is orchestrated and comes together.
In this guide, you'll learn how to prepare your SOC to monitor Zero Trust access, networks, and endpoints for risks and threats. You'll discover:
How to make Zero Trust actionable across applications, users and infrastructure.
Why AI, automation and orchestration are must-haves.
What cybersecurity tools are necessary, and how they work in concert.
How monitoring needs to go beyond any single security tool to broaden visibility.
In today's world, an all-encompassing Zero Trust strategy is critical. Download this whitepaper to get started now.