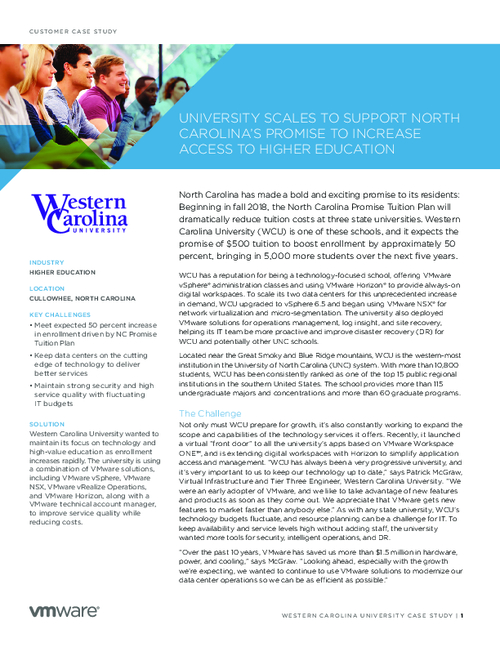 North Carolina has made a bold and exciting promise to its residents: Beginning in fall 2018, the North Carolina Promise Tuition Plan will dramatically reduce tuition costs at three state universities. Western Carolina University (WCU) is one of these schools, and it expects the promise of $500 tuition to boost enrollment by approximately 50 percent, bringing in 5,000 more students over the next five years. WCU has a reputation for being a technology-focused school, offering VMware vSphere® administration classes and using VMware Horizon® to provide always-on digital workspaces. To scale its two data centers for this unprecedented increase in demand, WCU upgraded to vSphere 6.5 and began using VMware NSX® for network virtualization and micro-segmentation.
See Also: Webinar | Passwords: Here Today, Gone Tomorrow? Be Careful What You Wish For.
This case study highlights:
Meet expected 50 percent increase in enrollment driven by NC Promise Tuition Plan;
Maintain strong security and high service quality with fl uctuating IT budgets;
Keep data centers on the cutting edge of technology to deliver better services.