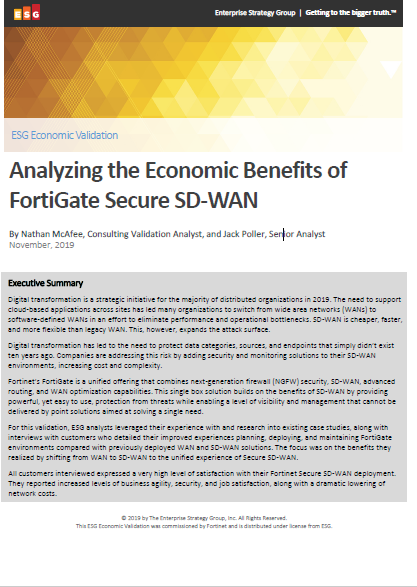 Digital transformation is a strategic initiative for the majority of distributed organizations in 2019. The need to support cloud-based applications across sites has led many organizations to switch from wide-area networks (WANs) to software-defined WANs in an effort to eliminate performance and operational bottlenecks. SD-WAN is cheaper, faster, and more flexible than legacy WAN. This, however, expands the attack surface.
Digital transformation has led to the need to protect data categories, sources, and endpoints that simply didn't exist ten years ago. Companies are addressing this risk by adding security and monitoring solutions to their SD-WAN environments, increasing cost & complexity.
Download this solution brief to learn more about the increased levels of business agility, security, and decreased network costs with FortiGate Secure SD-WAN.