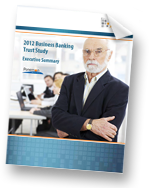 The 2012 Business Banking Trust Study is the 3rd annual research study commissioned by Guardian Analytics to understand the impact that online banking fraud is having on small and medium-sized businesses (SMB) and their relationships with their financial institutions (FI).
The findings cover:
How many SMBs are being hit by fraud;
SMBs expectations of their FIs and the impact of fraud incidents;
The frequency of successful fraudulent transfers;
How frequently SMBs are reimbursed for losses;
Business impact on FIs, including lost money, lost trust, and lost customers.
For example, 74% of businesses surveyed have experienced online fraud; 52% in the past 12 months.
Download this study to learn more.