Cryptocurrency Fraud , Fraud Management & Cybercrime
US Treasury Department Says Stablecoins Must Be Regulated
Report Calls for Congressional Action to Address Risks With Fiat-Backed Tokens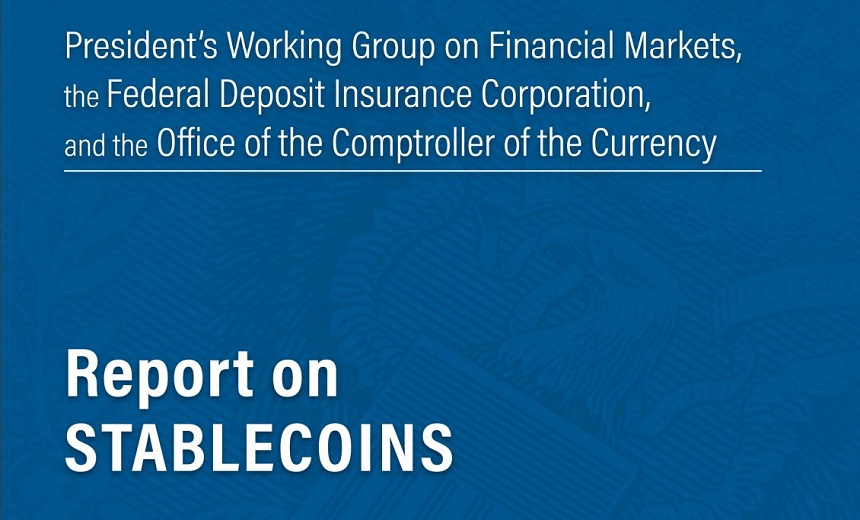 A new report from the U.S. Department of the Treasury urges Congress to "act promptly" to issue legislation that brings additional oversight to stablecoins, or cryptocurrency tokens pegged to fiat currencies. Federal officials say regulation should match that of traditional financial institutions - as a way to mitigate investor, market and cybersecurity risks, among others.
See Also: Better Defense Against Identity Theft and Application Fraud
According to the report, which was released by the President's Working Group on Financial Markets, the Federal Deposit Insurance Corporation and the Office of the Comptroller of the Currency, "Congress [should] act promptly to enact legislation to ensure that payment stablecoins and payment stablecoin arrangements are subject to a federal prudential framework on a consistent and comprehensive basis."
The working group - comprised of federal financial leaders from the Securities and Exchange Commission, the Federal Reserve and the Commodity Futures Trading Commission - suggests that while stablecoins are promising as a payment option, issuers should be held to standards similar to those for insured depository institutions.
While the report does not specify which federal agency held jurisdiction over stablecoin and digital asset trading, it credited the SEC and CFTC with "broad enforcement, rulemaking, and oversight authorities" to address related transactions and industry players.
In a statement on Monday, SEC Chair Gary Gensler said the stablecoin market is now worth nearly $130 billion, having grown twentyfold over the past 20 months.
"These stablecoins are embedded in crypto trading and lending platforms. Though they represent only about 5% of all crypto assets in October, more than 75% of trading on all crypto trading platforms occurred between a stablecoin and some other token," Gensler said.
Ari Redbord, head of legal and government affairs for the blockchain intelligence firm TRM Labs, tells Information Security Media Group that the legislation desired by Treasury leaders "would subject stablecoins to strict supervision by regulators who are especially concerned about the systemic or 'prudential' risks, such as a run on stablecoins."
Desired Outcomes
The report calls for oversight legislation but also says agencies should continue leveraging existing legal authorities to address associated risks. In the absence of congressional action, the report states, the Financial Stability Oversight Council should establish additional stablecoin standards.
Resulting legislation, the group notes, must also account for flexibility around future market developments and address risks across various organizational structures.
According to the authors, this legislation would:
Complement existing authorities;
Address risks to stablecoin users;
Guard against runs;
Require issuers to be insured depository institutions;
Require custodial wallet providers to be subject to federal oversight.
A federal supervisor of a stablecoin issuer, they say, should also have the authority to require entities to meet appropriate risk management standards.
Understanding Related Risks
Redbord, an ISMG contributor who formerly served at the Treasury Department as a senior adviser to the deputy secretary, says, "The report also highlights a number of other areas, including anti-money laundering, noting that stablecoin transactions could be 'money transmission services,' and thus subject to the Bank Secrecy Act and regulated by FinCEN" - a Treasury bureau that combats domestic and international financial crimes.
In his statement on Monday, Gensler said, "Stablecoins may facilitate those seeking to sidestep a host of public policy goals connected to our traditional banking and financial system: Anti-money laundering, tax compliance, sanctions, and other safeguards against illicit activity."
The report states: "To prevent misuse of stablecoins and other digital assets by illicit actors, Treasury will [also] continue to lead efforts at the Financial Action Task Force to encourage countries to implement international AML/CFT standards and pursue additional resources to support supervision of domestic … regulations."
The report also highlights risks unique to distributed ledger technologies, including cybersecurity and protocol and smart contract vulnerabilities, among others.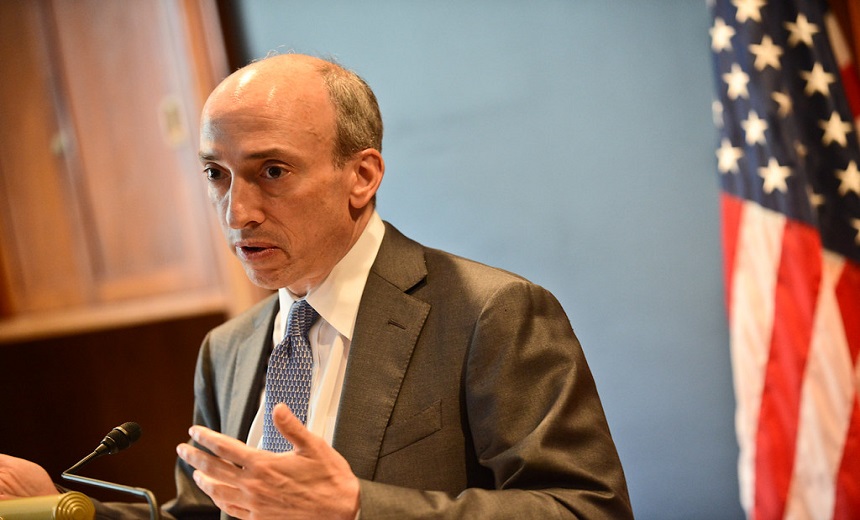 SEC Chair Gary Gensler (Photo: Third Way Think Tank via Flickr)
Regulatory Gaps and Illicit Finance
"Today, stablecoin arrangements are not subject to a consistent set of prudential regulatory standards that address … risks," the report says.
It states, "Stablecoins and other digital assets can be used to transfer large amounts of value across borders very quickly. A rapid increase in cross-border payments could amplify ML/TF risks due to the uneven implementation of global international AML/CFT standards. … Illicit actors can exploit these gaps by using services in countries with weak regulatory and supervisory regimes to launder funds, store proceeds of crime, or evade sanctions."
Addresses and transactions on public blockchains can be paired with information useful to regulators and law enforcement, according to the report. Yet, it says, "some stablecoins can transact without the involvement of financial institutions subject to AML/CFT obligations, thus limiting collection of and access to investigative information and preventative measures used to identify illicit financial activity."
Gensler notes, "[So,] while Congress and the public evaluate this report, we at the SEC and our sibling agency, the CFTC, will deploy the full protections of the federal securities laws and the Commodity Exchange Act to these products and arrangements, where applicable."
Previous Actions Around Cryptocurrencies
This report comes amid a busy fall for the SEC's Gensler, who has publicly advocated for comprehensive regulation around cryptocurrencies.
In September, Gensler testified before the Senate and called for regulations, citing a need to reduce cybersecurity risks, other market risks and criminal efforts to defraud investors (see: SEC Chair Pushes for Additional Cryptocurrency Regulations).
Gensler defended the SEC's ability to enforce securities laws against cryptocurrency companies, although several Republican lawmakers cited a "lack of clarity" in enforcement efforts, including around stablecoins.
And on these tokens specifically, Gensler has suggested that both the SEC and CFTC would benefit from expanded congressional oversight authorities. Bloomberg, however, reported that the SEC hoped to lead the legislative proposal process.