U.S. Postal Service Breach: A Timeline
Infographic Outlines Agency's Step-By-Step Response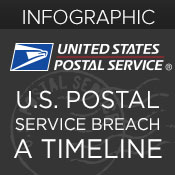 The U.S. Postal Service on Nov. 10 confirmed a data breach that affected some of its information systems. This infographic offers a timeline of the breach investigation provided by an official during a Congressional hearing.
See Also: Live Webinar | Education Cybersecurity Best Practices: Devices, Ransomware, Budgets and Resources
Testifying at a recent House hearing, Randy Miskanic, a USPS official, defended its delay in notifying USPS workers of a breach that exposed employees' Social Security numbers, contending authorities didn't initially know what data was pilfered (see: USPS Defends Breach Notification Delay). Miskanic also said the government didn't want to tip off hackers that it was aware of the breach.