Cyberwarfare / Nation-State Attacks , Endpoint Security , Fraud Management & Cybercrime
US Charges Huawei With Stealing Trade Secrets
Prosecutors Allege Criminal Conspiracy to Obtain Intellectual Property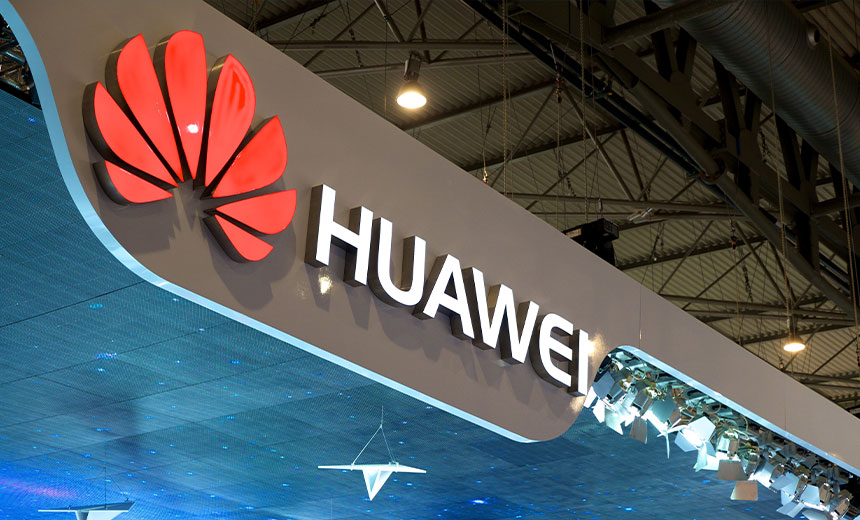 The U.S. Justice Department has filed new charges against Huawei and several of its subsidiaries, plus its CFO, accusing them of racketeering and engaging in a conspiracy to steal trade secrets from American companies.
See Also: Live Webinar | Cyber Resilience: Recovering from a Ransomware Attack
The new accusations are in addition to previous charges filed against the company and its CFO in January 2019 that included allegations of bank fraud, wire fraud and violations of the International Emergency Economic Powers Act.
The new 16-count indictment unsealed Thursday accuses Huawei and four subsidiaries - Huawei Devices, Huawei USA, Futurewei and Skycom - of engaging in a criminal conspiracy to "misappropriate intellectual property, including from six U.S. technology companies, in an effort to grow and operate Huawei's business."
The indictment alleges that Huawei attempted to steal source code and user manuals for internet routers, antenna technology and robot testing technology.
In addition to Huawei and its four subsidiaries, the new indictment names the company's chief financial officer, Wanzhou Meng, as a defendant. The Justice Department also charged Meng in 2019. She's currently in Canada, fighting extradition to the U.S., Reuters reports.
Huawei Pushes Back
On Thursday, Huawei posted a statement on Twitter denying the latest round of charges from the Justice Department.
"This new indictment is part of the Justice Department's attempt to irrevocably damage Huawei's reputation and its business for reasons related to competition rather than law enforcement," Huawei says.
The charges, which have been filed in federal court for the U.S. Eastern District of New York, come amid an ongoing campaign by the U.S. to convince its allies to ban the use of Huawei equipment in their 5G networks. This week, U.S. officials claimed that they had evidence that Huawei created a backdoor that allows it to access mobile phone networks around the world, according to the Wall Street Journal (see: US Has Evidence of Huawei Backdoor: Report)
Trade Secrets Theft
Prosecutors allege that Huawei and its subsidiaries, including Huawei USA and Futurewei, which are based in the U.S., entered into confidential agreements with the owners of six American companies and then broke those agreements by stealing and using the those firms' trade secrets and intellectual property, which saved Huawei research and development costs.
Huawei and its subsidiaries allegedly recruited former employees of those companies and asked them to steal trade secrets from their former employers, launching a bonus program with financial incentives to reward those who got confidential information, according to the new indictment.
Prosecutors also allege that Huawei provided false information to FBI agents and other U.S. intelligence officials and tried to cover up its activities to reduce the risk of being involved in various lawsuits.
While the six U.S. firms were not named in the indictment, Huawei has been sued by Cisco Systems, Motorola and T-Mobile U.S. for stealing intellectual property (see: Huawei Accuses US Government of Hack Attacks)
Violating Sanctions
In addition to allegedly stealing intellectual property, the new indictment charges Huawei with conducting business with countries such as Iran and North Korea that face economic sanctions by the U.S. Federal prosecutors allege that Huawei sold its equipment to these companies through local affiliates.
"Reflecting the inherent sensitivity of conducting business in jurisdictions subject to sanctions, internal Huawei documents allegedly referred to such jurisdictions with code names," according to the Justice Department. "For example, the code 'A2' referred to Iran, and 'A9' referred to North Korea."
Huawei has been accused of helping the government of Iran in undertaking domestic surveillance by selling that country technology, according to the indictment.
Senators React
Senate Intelligence Chairman Richard Burr, R-N.C., and Vice Chairman Mark Warner, D-Va., say the new charges paint a "damning portrait" of Huawei.
"Intellectual property theft, corporate sabotage, and market manipulation are part of Huawei's core ethos and reflected in every aspect of how it conducts business. It uses these tactics indiscriminately against competitors and collaborators alike," Burr and Warner say in a statement.