Governance & Risk Management , Privacy , Standards, Regulations & Compliance
UK Court Denies Assange Bail During Appeals Process
US Justice Department to Appeal Extradition Rejection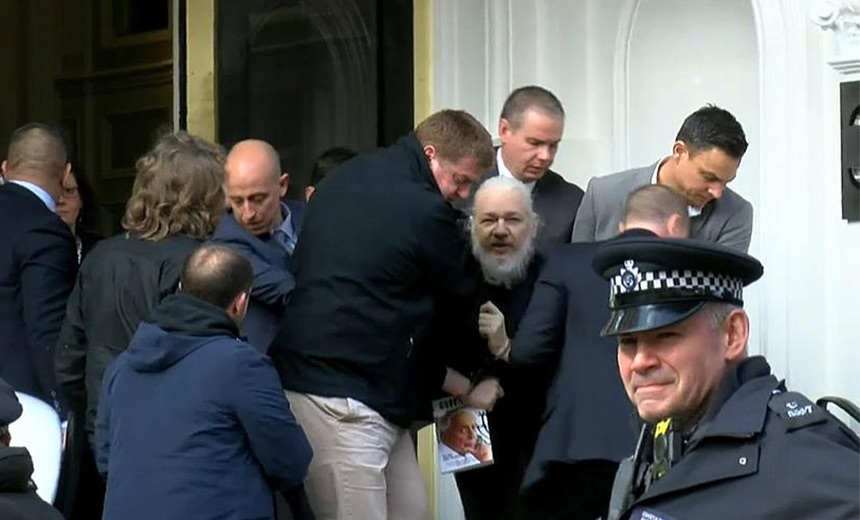 A U.K. court denied Julian Assange bail Wednesday as the U.S. Justice Department prepares to appeal a judge's ruling earlier this week rejecting its request to extradite the WikiLeaks founder to the U.S. to face criminal charges, The Associated Press reports. Assange will remain in a high-security prison during the appeals process.
See Also: LIVE Webinar | Stop, Drop (a Table) & Roll: An SQL Highlight Discussion
In denying bail, District Judge Vanessa Baraitser found that Assange was a risk "to abscond" during the appeals process and that he might not return to court if freed. For now, he'll remain in London's high-security Belmarsh Prison, where he has been held since April 2019 when British police arrested him at the Ecuadorian Embassy after that country ended his political asylum status.
Breaking: A London Judge has denied a bail application for Julian Assange #assangecase

— WikiLeaks (@wikileaks) January 6, 2021
On Monday, Baraitser issued a 130-page ruling that denied a request from the U.S. Justice Department to extradite Assange to America to face charges stemming from an 18-count federal indictment charging him with violating the Espionage Act and Computer Fraud and Abuse Act (see: British Judge Denies US Extradition of Assange).
In her ruling, Baraitser found that Assange's health would suffer if he was transferred to the U.S. to face criminal charges. The judge said Assange would likely commit suicide if he was sent to the U.S.
"Mr. Assange faces the bleak prospect of severely restrictive detention conditions designed to remove physical contact and reduce social interaction and contact with the outside world to a bare minimum. He faces these prospects as someone with a diagnosis of clinical depression and persistent thoughts of suicide," according to Baraitser's ruling.
Following Monday's decision, federal prosecutors announced they would appeal Baraitser's ruling in the extradition case.
Arguments for Bail
At Wednesday's bail hearing, Clair Dobbin, a British lawyer acting for the U.S., argued that Assange's past behavior, including his lengthy stay at the Ecuadorian Embassy, indicated that he would fail to appear for future court sessions if he was released on bail, the AP reports.
Dobbin also noted that Mexico and other countries had already extended offers of asylum for Assange.
Assange's attorney countered that Assange would stay in the U.K. during the appeals process because his partner and two young children are living in the country. Defense lawyers also argued that Assange, 49, was susceptible to exposure to COVID-19 if he remained in prison, the AP notes.
Baraitser sided with the prosecutor's arguments, noting that, "Mr. Assange still has an incentive to abscond from these as yet unresolved proceedings," according to the AP.
Stella Morris, Assange's partner, called the bail ruling a "huge disappointment" and appealed to President Donald Trump to pardon the Australian native.
Stella Morris, Assange's fiancée: I urge the @TheJusticeDeptto drop the charges and @realDonaldTrump to pardon #Assange. pic.twitter.com/Pc9szmqTbC

— Don't Extradite Assange (@DEAcampaign) January 6, 2021
Over the last several weeks, Bloomberg and other publications have reported that Trump is considering a pardon for Assange, as well as dozens of others.
The appeal by federal prosecutors is likely to take months or even years. Zachary Terwilliger, the U.S. attorney for the Eastern District of Virginia, who is overseeing the case, told NPR this week that the incoming Biden administration will likely have to consider whether to continue to pursue the criminal case.
The Accusations
Assange has been accused of publishing a series of classified U.S. documents that federal prosecutors say harmed national security.
Assange and his defenders have claimed that the publishing of these documents is protected by the First Amendment and the WikiLeaks founder should enjoy the same protections as journalists who publish stories based on classified documents (see: WikiLeaks' Assange: A Nexus of Media, Hacking and Activism).
The federal indictment also alleged Assange conspired with former Army intelligence analyst Chelsea Manning to crack a password hash for a classified U.S. Department of Defense computer to access classified documents (see: US Now Accuses Assange of Conspiring With Hacking Groups).
Manning then uploaded thousands of classified documents to WikiLeaks' cloud storage in early 2010, the indictment states. The documents included information on the Afghanistan and Iraq wars, details on Guantanamo Bay detainees and over 250,000 U.S. Department of State cables, according to previous Justice Department statements.
Manning was sentenced to 35 years in federal prison in 2013 for leaking the classified documents, but her sentence was commuted by former President Barack Obama in early 2017.