Enterprise Mobility Management / BYOD , Next-Generation Technologies & Secure Development
Trump Blocks Broadcom's Qualcomm Buy on Security Grounds
Administration Cites National Security, R&D Concerns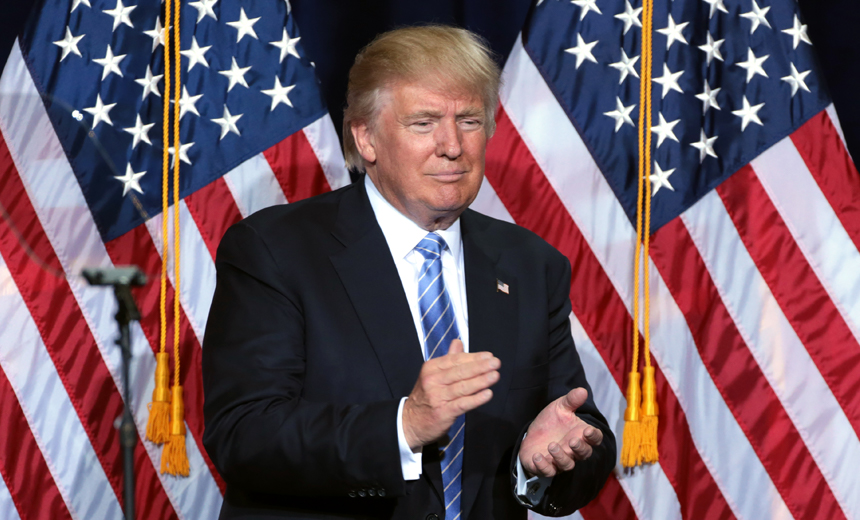 (Editor's note: On Wednesday, Broadcom announced that it was withdrawing its offer for Qualcomm. "Although we are disappointed with this outcome, Broadcom will comply with the order" from the White House to cease its bid, the company said in statement.)
See Also: LIVE Webinar | Stop, Drop (a Table) & Roll: An SQL Highlight Discussion
President Donald Trump has blocked a bid by Singapore's Broadcom to acquire San Diego-based Qualcomm on national security grounds.
"There is credible evidence that leads me to believe that Broadcom ... might take action that threatens to impair the national security of the United States," Trump wrote in a Monday executive order that blocked the deal.
Last November, semiconductor manufacturer Broadcomm made an unsolicited bid to acquire semiconductor and telecommunications equipment company Qualcomm for $130 billion, which the U.S. company rebuffed. Subsequently, Broadcom last month attempted to launch a hostile takeover of Qualcomm by electing a majority of the company's directors.
The Trump administration's move also reflects concerns that losing Qualcomm would allow its rival, China's Huawei Technologies, to dominate the market and leave the U.S. unable to help set mobile telephony standards going forward, thus jeopardizing national security, an unnamed White House official told Reuters.
Broadcom Dismisses Concerns
Broadcom says it is reviewing the order. "Broadcom strongly disagrees that its proposed acquisition of Qualcomm raises any national security concerns," it says in a statement.
The Trump administration, however, has defended the move. "This decision is based on the facts and national security sensitivities related to this particular transaction only," Treasury Secretary Steven Mnuchin, who chairs an interagency-panel that was reviewing the deal, said in a statement.
Mnuchin added that it "is not intended to make any other statement about Broadcom or its employees, including its thousands of hardworking and highly skilled U.S. employees."
U.S. Government Was Reviewing Deal
Broadcom's proposed deal was under investigation by an interagency panel, chaired by the secretary of the Treasury, called the Committee on Foreign Investment in the U.S. and known as CFIUS.
The panel had already signaled that it might recommend that the deal be blocked.
In a letter on March 5, CFIUS wrote to Broadcom's lawyers saying that on March 4, it had issued an interim order prohibiting Broadcom from taking control of Qualcomm by electing a majority of the company's directors, as it proposed to do in a filing with the U.S. Securities and Exchange Commission on Feb. 20.
"CFIUS has identified potential national security concerns that warrant a full investigation of the proposed transaction," the panel wrote in the letter, which was disclosed to the SEC. "Articulation of the potential national security concerns, in significant part, is classified."
Concerns: National Security, R&D
But in general terms, the panel said the national security concerns stemmed from "risks associated with Broadcom's relationships with third-party foreign entities" as well as potential for Broadcom's business moves to have national security implications for the U.S., via Qualcomm.
The panel voiced concern that Broadcom, known as an aggressive cost-cutter, would stifle research and innovation at Qualcomm.
"Among semiconductor companies, Qualcomm typically ranks second (after Intel) in R&D expenditure," CFIUS wrote. "This expertise and R&D expenditure, in turn, drive U.S. leadership in key standard-setting bodies, and Qualcomm has been a leading participant in standards setting for 3G and 4G. These qualities have positioned Qualcomm as the current leading company in 5G technology development and standard setting."
On Sunday, CFIUS accused Broadcom of having violated the interim notice by failing to provide the panel with five days' notice of any moves to attempt to re-domicile Broadcom to the U.S.
Broadcom had originally planned to re-domicile on May 6, but on Monday announced that it was moving that up to April 3. "U.S. national security concerns are not a risk to closing, as Broadcom never plans to acquire Qualcomm before it completes redomiciliation," Broadcom claimed in a statement.
By redomiciling to the U.S., Broadcom may no longer have been subject to CFIUS scrutiny, legal experts told Reuters.
"It is not entirely clear how establishing a U.S. domicile would affect CFIUS' view of its jurisdiction over the proposed transaction," U.S. law firm Kirkland & Ellis LLP, which is not involved in the deal, wrote in a note to clients on Friday, Reuters reports.
"CFIUS' determination as to whether an entity is considered 'foreign' is nuanced and not prescriptive and encompasses considerations that include a facts and circumstances assessment of ownership and formal and informal mechanisms of control," according to Kirkland's legal analysis.
Few Options For Broadcom
Trump's executive order, filed days before Qualcomm's shareholders were set to vote on Broadcom's bid to replace six of the company's 11 directors with Broadcom picks, leaves the Singaporean company with few follow-on options in its acquisition quest, Michael Gershberg, an attorney with Fried, Frank, Harris, Shriver & Jacobson LLP, who has experience with CFIUS cases, tells the Wall Street Journal.
"There may be avenues for the companies to work together in other kinds of arrangements, but anything that looks like Broadcom controls Qualcomm, especially around the 5G business, CFIUS will be alert to," he says.