Cybercrime , Fraud Management & Cybercrime , Governance & Risk Management
Trump Adviser Stone Charged With Lying About WikiLeaks
Roger Stone Arrested as Part of Mueller Investigation Into Russian Interference
This story has been updated.
See Also: Live Webinar | Cyber Resilience: Recovering from a Ransomware Attack
Roger Jason Stone Jr., 66, a longtime political adviser to President Donald Trump, was arrested Friday morning in Florida as part of Special Counsel Robert Mueller's investigation into Russian interference in the 2016 U.S. presidential election.
Stone, a political operative who has worked on a number of Republican campaigns - from Richard Nixon to Donald Trump's - was arrested in Fort Lauderdale and appeared in court later on Friday and was released on a $250,000 bond.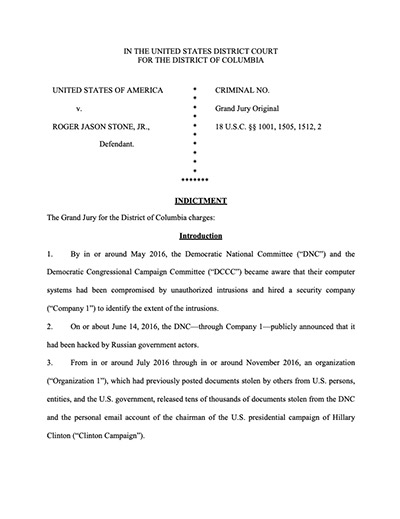 Indictment against Roger Stone Jr., unsealed on Jan. 25, 2019
A seven-count indictment returned by a District of Columbia grand jury on Thursday charges Stone with obstruction of justice, witness tampering and five counts of making false statements.
The obstruction of justice charge against Stone concerns his testimony before the U.S. House of Representatives Permanent Select Committee on Intelligence - HPSCI - which was investigating Russian interference, as were the FBI and the Senate Select Committee on Intelligence. Each has been looking into the role of WikiLeaks, which released more than 20,000 emails that had been stolen from Democratic Party officials (see: Nation-State Spear Phishing Attacks Remain Alive and Well).
The FBI, HPSCI and SSCI have also been investigating Stone's public claims that he contacted WikiLeaks, according to the indictment, as well as to what extent he may have served as a back channel to WikiLeaks for the Trump campaign.
"In response, Stone took steps to obstruct these investigations," according to the indictment, which says he "made multiple false statements to HPSCI about his interactions regarding Organization 1 [WikiLeaks], and falsely denied possessing records that contained evidence of these interactions."
Stone also "attempted to persuade a witness to provide false testimony to and withhold pertinent information from the investigations," according to the indictment.
Explosive Allegation
The potentially most explosive allegation contained in the indictment, however, is that a senior member of Trump's campaign team was directed - the indictment does not say by whom - to work with Stone and by extension WikiLeaks.

The indictment alleges that "a senior Trump campaign official was directed to contact Stone about any additional releases and what other damaging information [WikiLeaks] had regarding the Clinton campaign." The indictment does not reveal the identity of the person who directed the also unnamed senior Trump campaign official to communicate with Stone.
The indictment cites radio interviews between Stone and comedian Randy Credico, who's referred to in the indictment as "Person 2."
Stone said on multiple occasions that he'd been communicating with WikiLeaks founder Julian Assange. "I actually have communicated with [the head of Organization 1]. I believe the next tranche of his documents pertain to the Clinton Foundation, but there's no telling what the October surprise may be," Stone said at a public event he attended on Aug. 8, 2016, according to the indictment.
Stone had also claimed that Credico served as a go-between for him with Assange, which Credico denied. Email exchanges included in the indictment, however, indicate that Credico told Stone that he had passed Stone's messages on to Assange.
Assange first appeared on Credico's radio show on Aug. 25, 2016.
WikiLeaks, DNC and DCCC Hacking
In early 2017, a unanimous U.S. intelligence agency assessment accused the Russian government of having attempted to interfere in the 2016 U.S. presidential election by actively working to promote Trump and damage Clinton.
In July 2018, Mueller's investigation resulted in an indictment being brought against 12 Russian GRU military intelligence officers for interfering in the U.S. elections. "These GRU officers, in their official capacities, engaged in a sustained effort to hack into the computer networks of the Democratic Congressional Campaign Committee, the Democratic National Committee and the presidential campaign of Hillary Clinton, and released that information on the internet under the names 'DCLeaks' and 'Guccifer 2.0' and through another entity," according to the U.S. Justice Department (see: 10 Takeaways: Russian Election Interference Indictment).
The other entity - named only as "Organization 1" - was WikiLeaks, led by founder Julian Assange, who has been living in Ecuador's embassy in London since June 2012, when he voluntarily sought refuge there to escape extradition to Sweden to face allegations of sex crimes.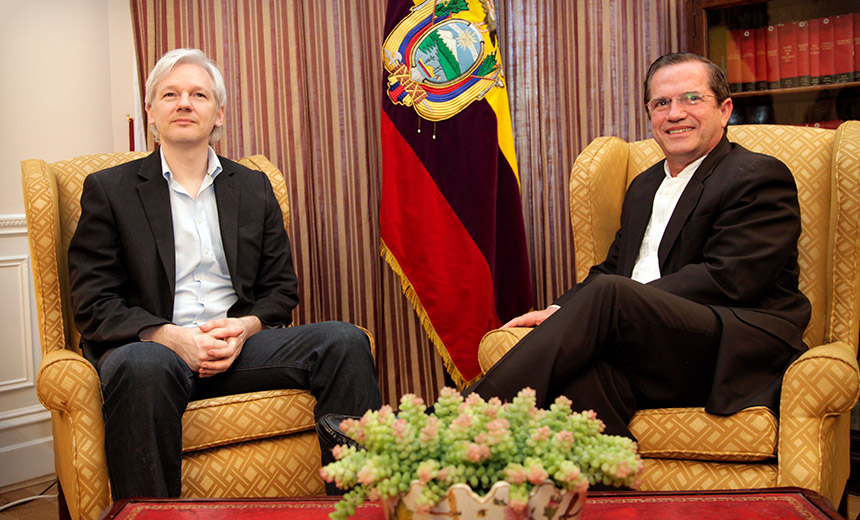 Julian Assange pictured in 2013 in Ecuador's embassy in London with Ecuadorian politician Ricardo Armando Patiño Aroca (Photo: Xavier Granja Cedeño via Flickr/CC)
According to the July 2018 indictment, Organization 1 "released over 20,000 emails and other documents stolen from the DNC network by the conspirators," just days before the Democratic National Convention. "The latest-in-time email released through Organization 1 was dated on or about May 25, 2016, approximately the same day the conspirators hacked the DNC Microsoft Exchange Server," the indictment states.
Stone Named in Two Lawsuits
Stone had previously been named in two lawsuits. One was filed on July 12, 2017, in the District of Columbia, by three "private American citizens" who sued Donald Trump's presidential campaign as well as Stone for conspiring with agents of Russia and WikiLeaks over the disclosure of their private information resulting from the breach of Democratic Party computers (see: 'Private Citizens' Sue Trump Campaign for Exposing Their PII).
A lawsuit filed by the DNC in Manhattan federal court on April 20, 2018, alleged that a number of organizations and individuals - including the Russian Federation; the GRU Russian military intelligence organization; the GRU operative who used the pseudonym "Guccifer 2.0"; WikiLeaks and its founder Julian Assange; Donald Trump as well as his 2016 presidential election campaign; Paul Manafort; Roger Stone; Jared Kushner; George Papadopoulos and others - engaged in a conspiracy designed to affect the outcome of the 2016 U.S. presidential election (see: Trump's DNC 'Server' Conspiracy Rebutted).
Senior Trump Campaign Officials
The indictment against Stone does not say if he was communicating with WikiLeaks on behalf of the Trump campaign. But it does suggest that he was coordinating with the campaign.
"During the summer of 2016, Stone spoke to senior Trump Campaign officials about Organization 1 and information it might have had that would be damaging to the Clinton Campaign," the indictment states. "Stone was contacted by senior Trump Campaign officials to inquire about future releases by Organization 1."
While Stone in early August 2016 was claiming to have communicated with WikiLeaks and Assange, WikiLeaks in mid-August 2016 denied being in direct communication with Stone, according to the indictment.
"Thereafter, Stone said that his communication with Organization 1 had occurred through a person Stone described as a 'mutual friend,' 'go-between,' and 'intermediary,'" it says, referring to Credico. "Stone also continued to communicate with members of the Trump Campaign about Organization 1 and its intended future releases."
On Oct. 7, 2016, WikiLeaks began releasing emails stolen from Hillary Clinton's 2016 presidential campaign chairman, John Podesta, allegedly by the GRU. "Shortly after Organization 1's release, an associate of the high-ranking Trump Campaign official sent a text message to Stone that read 'well done,'" according to the indictment.
Stone Looks Forward to 'Being Vindicated'
Stone was arrested on Friday morning by FBI agents. His arrest was filmed by CNN, which deployed a reporting team to Stone's residence based on a hunch on Thursday after it saw "unusual grand jury activity."
"FBI. Open the door."

Watch exclusive CNN footage of the FBI arresting longtime Trump associate Roger Stone. Stone has been indicted by a grand jury on charges brought by special counsel Robert Mueller. https://t.co/5QHKDB2mfA pic.twitter.com/UeKo7CmXWo

— CNN (@CNN) January 25, 2019
After his court appearance Friday, Stone said that he would go to trial over the seven charges, according to The Hill.
"I am falsely accused of making false statements," Stone said, adding that he looks "forward to being vindicated."
And Stone dug in on his previous vow not to testify against Trump, the Hill reports. "There is no circumstance whatsoever under which I will bear false witness against the president, nor will I make up lies to ease the pressure on myself," he said.
White House, Trump Respond
White House press secretary Sarah Sanders told CNN that "charges brought against Mr. Stone have nothing to do with the president, nothing to do with the White House."
Sanders declined to answer questions about whether Trump directed a senior campaign official to contact Roger Stone about Wikileaks.
But as Stone appeared in court on Friday, Trump tweeted, apparently in support: "Greatest Witch Hunt in the History of our Country! NO COLLUSION! Border Coyotes, Drug Dealers and Human Traffickers are treated better. Who alerted CNN to be there?"
Mueller's investigation continues.