Top Insider Threat Risks
Larry Ponemon, Ponemon Group; Christine Meyers, Attachmate Luminet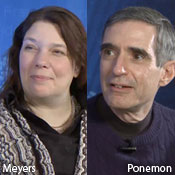 On average, it takes 87 days to first recognize that insider fraud has occurred and more than three months (105 days) to get at the root cause of the fraud.
See Also: Fireside Chat | Zero Tolerance: Controlling The Landscape Where You'll Meet Your Adversaries
This is just one of the new findings of a 2013 Insider Threat study conducted by Ponemon Group and Attachmate Luminet. In an interview about the survey findings, Larry Ponemon and Attachmate Luminet's Christine Meyers discuss:
Top headlines from the latest study;
Impact of BYOD on insider crimes;
Technology solutions to mitigate risks.
Ponemon is the Chairman and Founder of the Ponemon Institute, a research "think tank" dedicated to advancing privacy, data protection and information security practices. Dr. Ponemon is considered a pioneer in privacy auditing and the Responsible Information Management or RIM framework. Dr. Ponemon was named by Security Magazine as "Most Influential People for Security."
Meyers is the Product Marketing Manager at Attachmate, and overseer of the Luminet product. She has been writing on emerging technologies, security, risk and compliance for over a decade on issues related to enterprise fraud, investigation, and behavioral analytics.
Additional Summit Insight:
Hear from more industry influencers, earn CPE credits, and network with leaders of technology at our global events. Learn more at our Fraud & Breach Prevention Events site.