Events , RSA Conference , RSA Conference Videos
The Technology of Advanced Threats
RSA's New CTO, Zulfikar Ramzan, Takes Charge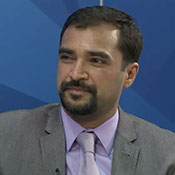 Dr. Zulfikar Ramzan is the new CTO at RSA, and he's focused on advanced threats. What are the technology nuances behind today's top threats, and how can organizations best defend themselves?
See Also: Live Webinar | Navigating the Difficulties of Patching OT
In an interview recorded at RSA Conference 2015, Ramzan discusses:
The advanced threats that concern him most;
The technology behind the threats;
How our responses to these threats must change.
Ramzan is responsible for developing the company's technological strategy and he will focus on bringing to market product innovations that protect RSA customers from the growing number of advanced threats to their information assets.
Prior to joining RSA, Ramzan served as CTO of Elastica and was the Chief Scientist of Sourcefire, which was acquired by Cisco in October 2013. Before joining Sourcefire through its acquisition of Immunet in 2010, he was Technical Director of Symantec's Security Technology and Response division. He holds a Ph.D. in Electrical Engineering and Computer Science from the Massachusetts Institute of Technology, with thesis work in cryptography. His doctoral advisor at MIT was Professor Ronald L. Rivest, who co-founded RSA Data Security.
Additional Summit Insight:
Hear from more industry influencers, earn CPE credits, and network with leaders of technology at our global events. Learn more at our Fraud & Breach Prevention Events site.