Events , RSA Conference , RSA Conference Videos
State of Privacy 2015
Michelle Dennedy, Trevor Hughes on Privacy's Higher Profile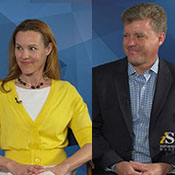 Amidst a flurry of security breaches and new legislation, privacy suddenly has gained a higher profile globally. Michelle Dennedy of Intel Security and Trevor Hughes of the IAPP discuss the new prominence of privacy.
See Also: Live Webinar | Breaking Down Security Challenges so Your Day Doesn't Start at 3pm
In an interview recorded at RSA Conference 2015, Dennedy and Hughes talk about:
Privacy milestones of the past year;
The potential impact of new legislation;
What the board now needs to know about privacy.
As chief privacy officer at Intel Security, Dennedy is responsible for privacy policies, procedures and governance efforts. Previously, Dennedy founded The iDennedy Project, a consulting and advisory company specializing in privacy and security. Dennedy was also previously vice president for security and privacy solutions at Oracle.
Hughes is an attorney specializing in e-commerce, privacy and technology law. In his role as executive director of the IAPP, he leads the world's largest association of privacy professionals. He has testified before the U.S. Congress Commerce Committee, the U.S. Senate Commerce Committee, the U.S. Federal Trade Commission and the EU Parliament on issues of privacy and data protection, spam prevention and privacy-sensitive technologies.
Additional Summit Insight:
Hear from more industry influencers, earn CPE credits, and network with leaders of technology at our global events. Learn more at our Fraud & Breach Prevention Events site.