Cybercrime , Fraud Management & Cybercrime , Next-Generation Technologies & Secure Development
State Department Spends $0 of Anti-Propaganda Allocation
Congress Has Allocated $120 Million Since 2016 to Combat Foreign Campaigns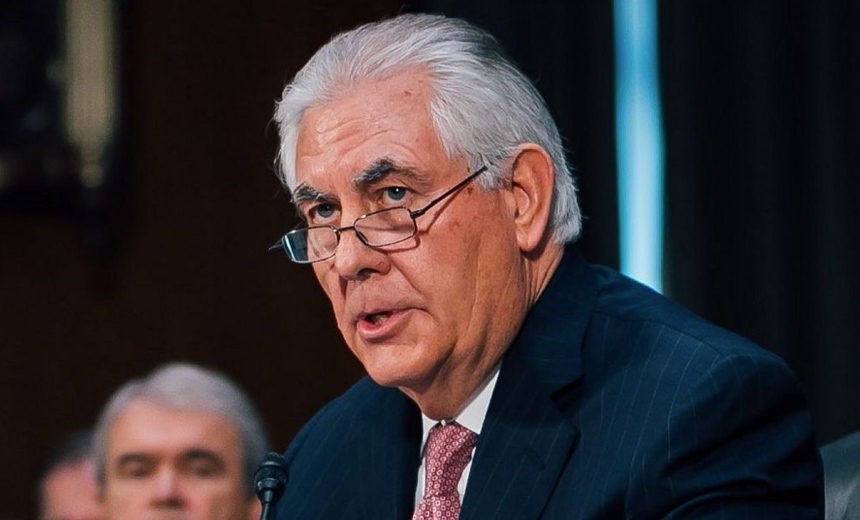 Editor's note: On March 13, President Trump sacked Rex Tillerson as secretary of state and nominated Mike Pompeo, director of the CIA, to be his replacement.
See Also: Live Webinar | Breaking Down Security Challenges so Your Day Doesn't Start at 3pm
Election hacking: Good luck stopping it if you don't try to block it.
To the surprise of many, including multiple U.S. lawmakers, $120 million budgeted by Congress since late 2016 to help the State Department fight attempts by foreign governments to meddle in U.S. political affairs hasn't been spent.
Not even a dime.
The money was intended to be used to counter propaganda and disinformation efforts by the likes of the Chinese and Russian governments.
Meanwhile, such efforts continue unabated, national security leaders continue to warn Congress and mid-term U.S. elections are now only eight months away with primaries alreadty underway in many states (see Russia Will Meddle in US Midterm Elections, Spy Chief Warns).
Since Congress allocated funds to battle foreign government propaganda, the Russian government has been accused of meddling in U.S. political affairs via allegedly Kremlin-funded social media farms, such as the Information Research Agency in St. Petersburg, Russia. That organization and two others, as well as 13 individuals, were indicted last month as part of special counsel Robert Mueller's ongoing investigation into Russian meddling in the 2016 U.S. elections.
Moscow has also been accused of using hacking, including via mercenaries, to steal data that it later dumped online using the Guccifer 2.0 persona as well as via WikiLeaks (see Anatomy of a Russian Information Warfare Campaign).
A study the Columbia Journalism Review published last week found that more of the Information Research Agency's tweets appeared in stories by USA Today than they did in pieces published by Russian government propaganda website RT, formerly known as Russia Today.
It's unclear what effect Russian-funded data dumps and social media farms may have had on U.S. elections (see Information Warfare: Gauging Trolls' Influence on Democracy).
But when trying to blunt foreign governments' propaganda and disinformation campaigns, planning ahead remains key, according to the operational security expert known as the Grugq. "You can't really counteract propaganda. You have to outmaneuver it or prevent it," he tweets.
Congressional Allocation: Unspent
At the end of the Obama administration, Congress directed the Pentagon to give $60 million to the State Department's Global Engagement Center for fiscal 2017, to be followed by an equal amount for fiscal 2018.
But Secretary of State Rex Tillerson dithered, waiting until last Sept. 18 - two weeks before the end of fiscal 2017 - to request the funds, at which point Defense Department officials decided he'd waited too long, the New York Times recently reported.
Currently, the Global Engagement Center has a staff of about 60 people, including 23 contract analysts tasked with countering jihadist and extremist propaganda, the New York Times reports. None of the center's analysts speak Russian, according to the newspaper.
"You can't really counteract propaganda, you have to outmaneuver it or prevent it."
On Feb. 26, meanwhile, the Pentagon announced that it had agreed to transfer just $40 million - of the $120 million originally earmarked by Congress - to the State Department.
Trumpeting the "new partnership with the Department of Defense" last month in a press release, the State Department says it expects to see the money arrive in April, at which point it can began hiring Russian speakers.
To "kick-start the initiative quickly," Steve Goldstein, the under secretary for public diplomacy, says he's adding $1 million from his budget.
White House Response Questioned
The White House continues to face questions about why it hasn't done more to combat election interference by Russia since the U.S. intelligence establishment warned in January 2017 that Moscow had meddled in the 2016 U.S. presidential election.
Asked what the White House has done since then, White House Press Secretary Sarah Sanders responded during a Feb. 27 press briefing in part by referencing the $40 million to be spent by the State Department (see White House Says It's Been 'Very Tough' on Russia).
"Just this week, they announced, through the State Department, that $40 million is being given to the Global Engagement Center to begin providing immediate support to private and public partners that expose and counter Russian and Chinese propaganda and disinformation," she said.
Democratic Lawmakers Slam Delays
Democratic lawmakers have reacted to the administration's inaction with alarm.
"Russia is actively working to undermine our democracy, and our government is asleep at the wheel. We need a government-wide, society-wide response to the Russian threat right now - starting with leadership at the top," tweets Sen. Mark Warner of Virginia, the top Democrat on the Senate Intelligence Committee.
In a March 8 letter, all of the Democrats on the House Committee on Foreign Affairs asked Tillerson to explain his delay in light of national security officials, including Adm. Mike Rogers, the director of the National Security Agency and chief of U.S. Cyber Command, warning that much more needs to be done.
"In the face of this urgency, you told a Fox television personality that it is 'very difficult' to stop Russian meddling," the lawmakers write to Tillerson. "It's unclear how you reached this conclusion considering the administration hasn't even tried."
The lawmakers also noted that President Donald Trump's administration has yet to impose sanctions passed last year by a bipartisan majority of lawmakers.
The State Department didn't immediately respond to a request for comment on the letter.
Sanders, during the Feb. 27 press briefing, was pressed about why the sanctions have yet to be enacted. "There's a process that has to take place, and we're going through that process," she said. "That law also says that the countries have to violate something in order for those sanctions to go in place. And that hasn't necessarily happened."