Sony Pictures Cyber-Attack Timeline
Infographic Provides Overview of Events Surrounding Breach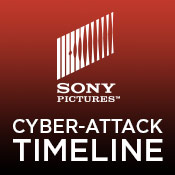 Sony Pictures Entertainment in late November suffered a significant cyber-attack that led to intellectual property and personal employee details being leaked online.
See Also: LIVE Webinar | Stop, Drop (a Table) & Roll: An SQL Highlight Discussion
The attack ultimately led to Sony Pictures pulling the release of its upcoming film "The Interview," following threats from hackers against movie theaters planning on showing it. The following infographic provides an overview of the events leading up to, during and after the breach on Sony.