Anti-Phishing, DMARC , Cybercrime , Cyberwarfare / Nation-State Attacks
Russia Will Meddle in US Midterm Elections, Spy Chief Warns
White House Inaction Questioned by Some Lawmakers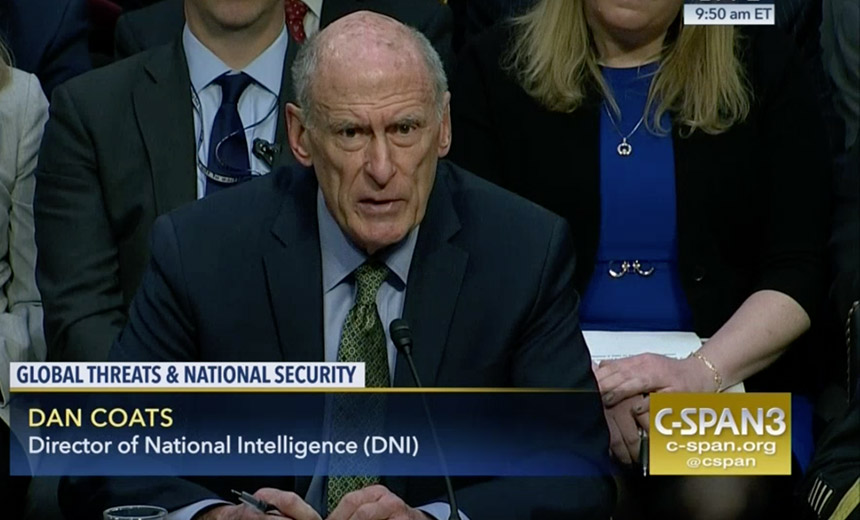 The top intelligence official in the United States has warned Congress that all signs point to Russia attempting to meddle in the upcoming U.S. midterm elections, a repeat of the country's alleged 2016 U.S. presidential election interference.
See Also: JavaScript and Blockchain: Technologies You Can't Ignore
"The 2018 U.S. midterm elections are a potential target for Russian influence operations," Director of National Intelligence Dan Coats warned in written testimony prepared for the Senate Intelligence Committee's Tuesday hearing.
"At a minimum, we expect Russia to continue using propaganda, social media, false-flag personas, sympathetic spokespeople, and other means of influence to try to exacerbate social and political fissures in the United States," said Coats, a former Republican Indiana senator who President Donald Trump appointed last year to serve in the administration's top intelligence job.
"Moscow seeks to create wedges that reduce trust and confidence in democratic processes, degrade democratization efforts, weaken U.S. partnerships with European allies, undermine Western sanctions, encourage anti-U.S. political views and counter efforts to bring Ukraine and other former Soviet states into European institutionism," said Coats, who as the director of the DNI leads the nation's 17 intelligence agencies (see No Shock: Russia Confirms 'Cyber War' Efforts).
U.S. Director of National Intelligence Dan Coats warns the Senate Intelligence Committee that there have been no signs that Russia has decreased its information operations against the United States and its allies.
Coats delivered his remarks while briefing the committee on the U.S. intelligence community's 2018 assessment of the worldwide threats facing U.S. national security. The briefing also touched on weapons of mass destruction, transnational organized crime, regional threats as well as the online sphere.
Top Cyberattack Players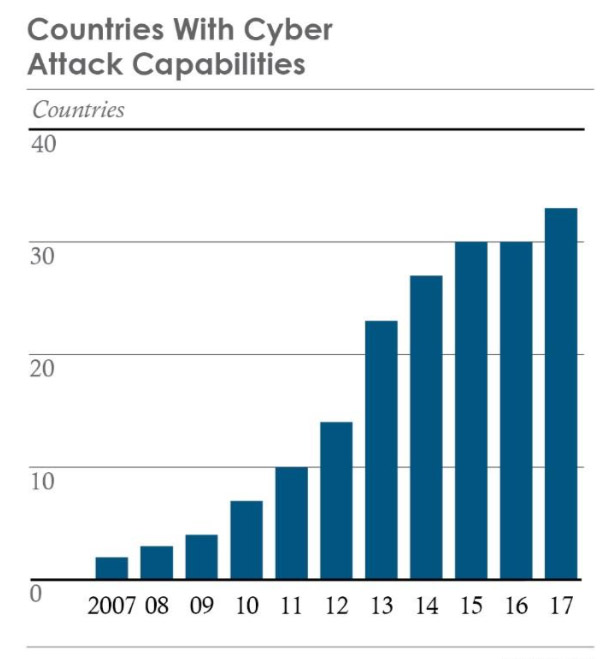 Source: Worldwide Threat Assessment of the U.S. Intelligence Community, released Feb. 13.
In the cyber realm, Russia poses the top online attack threat to United States, Coats said. He also said other major nation-state adversaries in the online realm are China, North Korea and Iran, "although many countries and some non-state actors are exploring ways to use influence operations, both domestically and abroad."
But Coats, together with the heads of the CIA, FBI and National Security Agency, among other agency leaders, all testified that they have seen no cessation in Russian influence operations.
"Influence operations, especially through cyber means, will remain a significant threat to U.S. interests as they are low-cost, relatively low-risk, and deniable ways to retaliate against adversaries, to shape foreign perceptions and to influence populations," Coats testified.
Pressed for details, the intelligence chiefs declined to elaborate, citing the public forum. But all said they stand by the 2017 assessment by the U.S. intelligence community that Russia attempted to interfere in the 2016 elections by boosting Trump's chances against those of his rival, Democratic presidential nominee Hillary Clinton.

Testifying on Feb. 13 before the Senate intelligence committee, from left: FBI Director Christopher Wray, CIA Director Mike Pompeo, Director of National Intelligence Dan Coats, Defense Intelligence Agency Director Robert Ashley, NSA Director Michael "Mike" S. Rogers, National Geospatial-Intelligence Agency Director Robert T. Cardillo. (Photo: C-SPAN)
All testified that they have seen no decrease in those efforts, which included targeting both political parties and leaking stolen data using the Guccifer 2.0 persona as well as via media outlets and WikiLeaks; gaining remote access to elements of multiple U.S. state and local electoral boards; and launching multiple propaganda efforts via state-run media organizations as well as fictional personas on social media platforms, including Facebook and Twitter.
After the hearing, the committee met with the intelligence officials for a private briefing.
At the federal level, in November, all 435 seats in the House of Representatives are due to be contested, as are 34 of the 100 seats in the Senate. At the state level, voters will decide the outcome of 36 gubernatorial elections as well as which party controls numerous state legislatures.
Probing Russian Interference
The Senate Intelligence Committee, led by Sen. Richard Burr, R-N.C., continues to probe Russia's 2016 election interference.
President Trump initially dismissed the intelligence community's assessment that Moscow meddled in the 2016 elections, before acknowledging it and then later casting doubt on the findings while suggesting he lost the popular vote due to electoral fraud (see Report: Russia's US Election Interference Was Widespread).
Moscow continues to deny any interference. Trump has backed those claims. "Every time he sees me he says, 'I didn't do that,' and I really believe that when he tells me that, he means it," Trump told reporters in November after meeting with Russian President Vladimir Putin at the Asia-Pacific Economic Cooperation summit in Vietnam.
Testifying on Tuesday, intelligence chiefs said they are attempting to thwart Russian efforts. "We take all kinds of steps to disrupt Russian activities in terms of what they're trying to do," Coats said, before turning to CIA Director Mike Pompeo.
"We have a significant effort to do our best to push back against this threat, and it's not just the Russian threat - it's Iranians and Chinese - it's a big, broad effort," Pompeo said.
But more needs to be done, they said, including alerting the public. "We need to inform the American public that this is real," Coats told the Senate committee. "That this is going to happen, and the resilience needed for us to stand up and say we're not going to allow some Russian to tell us how to vote, how to run our country."
White House Reaction Questioned
Some Republican members of the Senate committee sought to downplay the impact of Russia's efforts.
"I think the American people are ready for this," said Sen. James Risch, R-Idaho. "The American people are smart people; they realize there are people attempting to manipulate them, both domestically and foreign. And I agree with everyone on the panel: This is going to go on."
Democratic lawmakers continue to press the White House on its inaction vis-à-vis Russia's information warfare campaigns against the United States.
"We've had more than a year to get our act together and address the threat posed by Russia and implement a strategy to deter future attacks. But we still do not have a plan," says Sen. Mark Warner of Virginia, who's the top Democrat on the Senate Intelligence Committee.
We've had more than a year to get our act together and address the threat posed by Russia and implement a strategy to deter future attacks. But we still do not have a plan. https://t.co/S6NokQT8ht

— Mark Warner (@MarkWarner) February 13, 2018
"The president continues to deny the threat posed by Russia," he says. "He didn't increase sanctions on Russia when he had a chance to do so. He hasn't even Tweeted a single concern."