RSA Explains Duties of New CSO
NetWitness CSO Eddie Schwartz Named RSA Vice President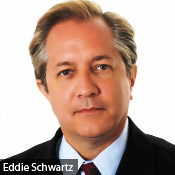 In making it official, RSA - the security company victimized by a hack of its SecurID authentication token - on Friday named NetWitness Chief Security Officer Eddie Schwartz as its first CSO, and outlined his responsibilities in his new job.

Both security companies are subsidiaries of storage maker EMC.

Schwartz' official title is vice president and divisional CSO for RSA. "In this multi-faceted role, Eddie will work in conjunction with EMC's global security office to help ensure the highest levels of information assurance at RSA," RSA spokeswoman Helen Stefan said in a statement e-mailed to GovInfoSecurity.com mid-afternoon Friday. "Eddie also will contribute to product strategy, marketing and technical evangelism for RSA. This role will leverage Eddie's 20-plus years of security expertise."

Stefan said Schwartz will work closely with Brian Fitzgerald, head of RSA corporate and product marketing; Tom Corn, RSA chief strategy officer; and David Martin, EMC's chief information security officer.

Since January 2007, Schwartz had served as CSO at NetWitness, a network security provider ofreal-time network forensics and automated threat analysis.

Schwartz didn't wait till an official announcement to reveal his new post. Earlier this week, he updated his LinkedIn page and Twitter account to reflect his new job. In a tweet earlier this week, Schwartz wrote: "Thanks to all for all the good wishes today as well as the reality checks. I am very excited about this job and our field in general."
The naming of Schwartz comes days after RSA Executive Chairman Arthur Coviello Jr. acknowledged that information taken from a hack of its IT systems in March had been used to breach Lockheed Martin computers. Coviello also said RSA would replace SecurID authentication tokens for customers who typically protect intellectual property and corporate networks (see RSA: SecurID Hack Tied to Lockheed Attack).
Jim Routh, global head of application security at JP Morgan Chase, said in a LinkedIn recommendation that Schwartz has the rare talent to communicate complex ideas at a conceptual, logical and physical level, adjusting seamlessly with his audience based on their technical enterprise. "Every conservation with him is a worthwhile endeavor and a great learning opportunity," said Routh, who at the time of the 2009 recommendation worked as chief information security officer and managing director at Depository Trust & Clearing Corp.
According to his LinkedIn biography, Schwartz said his responsibilities at NetWitness included aligning the firm's product strategy with the evolving operational threat faced by government and commercial organizations. Before joining NetWitness, Schwartz served as chief technology officer of ManTech Security Technologies, senior vice president of operations of Guardent and executive vice president of operations for Predictive Systems. He also worked as chief information security officer at Nationwide Insurance, as a senior computer scientist for CSC and a foreign service officer with the State Department.