The Privacy Manifesto
Intel Security's Michelle Dennedy on the State of Privacy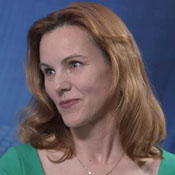 The Privacy Engineer's Manifesto is the title of Michelle Dennedy's new book, and it promises to help professionals get "from policy to code to QA to value."
See Also: The Role of the Cloud in Updating Security
In a video interview recorded at RSA 2014, Dennedy discusses:
The mission and audience of her book;
The state of privacy in 2014;
How to grow the profession.
As chief privacy officer at Intel Security, Dennedy is responsible for privacy policies, procedures and governance efforts. Previously, Dennedy founded The iDennedy Project, a consulting and advisory company specializing in privacy and security. Dennedy was also previously vice president for security and privacy solutions at Oracle. She is a co-author of a soon-to-be-published book: The Privacy Engineer's Manifesto: Getting from Policy to Code to QA to Value.