Ixia to Demonstrate Native 100GbE Interface Security Capabilities at RSA 2015
Ixia to Demonstrate Native 100GbE Interface Security Capabilities at RSA 2015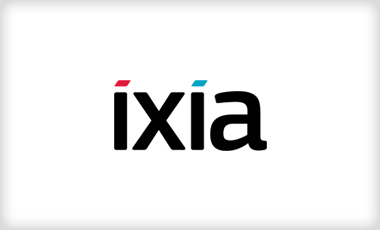 During the 2015 RSA Conference, Ixia (Nasdaq: IXIA) will demonstrate the PerfectStorm 100GbE, the industry's only 100GbE-enabled, content-aware device that validates and ensures security resilience for today's traffic-intensive networks. The demo will use Juniper Networks' new hardware for its Juniper Networks® SRX5800 Services Gateway to demonstrate carrier-grade, next-generation firewall technology scaling to Two Terabits per second (2 Tbps) of workloads.
"The threat landscape continues to evolve and service providers and data center operators need to secure their 100GbE core networks," said Denise Shiffman, corporate vice president of product management, Juniper Networks. "Companies are forced to not only meet greater and unpredictable demands for bandwidth on their network but also ensure they have efficient, fast and scalable protection in place. Ixia and its PerfectStorm solution are instrumental in enabling us to validate and test our new hardware for the SRX5800 Services Gateway at massive scale."
PerfectStorm 100GbE is the industry's only application and security testing platform that supports 100GbE native interfaces. With PerfectStorm 100GbE, customers can now test carrier core, data center core, and 100G transport networks with native 100Gbps interfaces at a scale of near-terabit speeds for real-world applications and security workloads. The PerfectStorm 100GbE leaps past other companies' solutions still using only slower 10GbE technologies and adds more value for Ixia PerfectStorm customers by helping them future proof their networks.
"Enterprises and service providers are looking to next-generation firewall and threat protection solutions to block attacks and keep their networks secure," said Jim Smith, vice president of service provider and NEMs solutions marketing, Ixia. "We are pleased to have been selected by Juniper Networks to validate the throughput, reliability and security features of its SRX5800. The Ixia PerfectStorm scales to nearly a terabit of application traffic in a single system and generates stateful applications and malicious traffic that simulate millions of real-world end-users to validate next generation infrastructure devices."
RSA attendees can view the PerfectStorm 100GbE demo and live testing of the 2 Tbps SRX5800 Services Gateway at the Juniper Networks booth #3821. Additionally, attendees can learn more about Ixia's solutions at booth #3535.
About Ixia
Ixia (NASDAQ: XXIA) provides application performance and security resilience solutions to validate, secure, and optimize businesses' physic al and virtual networks. Enterprises, service providers, network equipment manufacturers, and governments worldwide rely on Ixia's solutions to deploy new technologies and achieve efficient, secure, ongoing operation of their networks. Ixia's powerful and versatile solutions, expert global support, and professional services equip organizations to exceed customer expectations and achieve better business outcomes. Learn more at www.ixiacom.com.