Encryptics Cybersecurity Solution, to Debut at RSA Conference
Encryptics Cybersecurity Solution, to Debut at RSA Conference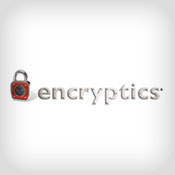 Encryptics, a cyber security company that secures digital content for the lifecycle of a document, will debut at the 2012 Annual RSA Conference held February 27- March 2 at the Moscone Center in San Francisco. Encryptics Booth #2654.
Encryptics Chief Executive Officer, Brandon Hart, said, "We are excited to introduce our product, Encryptics Professional at this prestigious event. With the digital environment expanding exponentially, the need for our product is now. Encryptics is asking our customers, I"s Your Data .SAFE?"
Encryptics Professional is the first Trusted Peer-to-Peer platform on the market. This means digital content never touches Encryptics servers; instead, traveling directly from the author/sender to recipient(s), secured via multiple keys, digital signatures, and hardware fingerprints. This solution can send secure content through email clients, such as Microsoft Outlook, or send our .SAFE file through Internet-based services including Gmail, Yahoo, AOL, and many more. Encryptics customers' data is kept .SAFE across multiple communication platforms, without disrupting workflow.
Encryptics won the Best of FOSE Special Judges' Award at the FOSE (Federal Office Systems Exposition) Show, held July 19-21, 2011 in Washington, D.C. when it was introduced to the government cyber-security industry. "The government is obviously an audience that is acutely aware that emails must be secure, and we were honored to be awarded the FOSE Judges' Award by the leading analysts in the industry," said Hart.
Most companies spend a lot of time and money on anti-virus software, firewalls, and passwords to protect their computer systems from hackers. But increasingly, they are seeing a need to protect their incoming and outgoing emails from security breaches. This is especially true for government agencies, hospitals, insurance companies, and financial institutions, handling information that must be kept private.
Encryptics will be introducing three new product enhancements at the RSA Conference. "These enhancements are: Read Receipt, Timeline Options, and Email Recall," said Hart. "Encryptics Professional's Read Receipt delivers the email message to the intended recipient and informs the author through a Delivery Receipt that the email has been decrypted.Timeline Options allows authors to control several options: Selection of the date when data can be accessed, how long that data can be accessed, and how many times it can be accessed. Email Recall allows authors to take emails back, for instance, in a case where a person's device has been lost or stolen," said Hart. "All three new features are extensions of our Advanced Digital Rights Management (DRM) package, providing authors unprecedented control over cyber data. Encryptics is dedicated to constantly expanding our customers' abilities to control all transmissions of their sensitive data."
To learn more, visit http://www.encryptics.com, call 877.454.7595, or email support@encryptics.com.