Artificial Intelligence & Machine Learning , Next-Generation Technologies & Secure Development
Nikesh Arora: ChatGPT Best Thing That's Happened to Security
Palo Alto Networks CEO on How AI Can Help Businesses Make More Sense of Their Data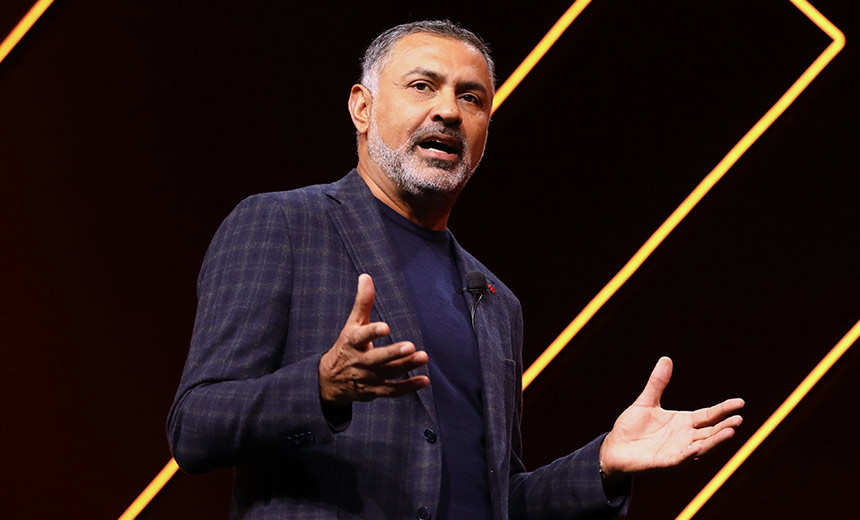 The revolution ChatGPT has driven in the consumer market has prompted enterprises to more closely examine how artificial intelligence can help safeguard data, says Palo Alto Networks CEO Nikesh Arora.
See Also: JavaScript and Blockchain: Technologies You Can't Ignore
"As I was on my way to India to speak at a convocation, I experienced ChatGPT for the first time," Arora tells investors in an earnings call Tuesday. "And I turned around and rewrote my convocation speech, saying, 'This is the best thing that's happened to security.' It's an inflection point. Three months ago, customers were not asking us about AI. Now, they all want to know, 'Are you deploying AI in your security products?' That's great."
Arora says ChatGPT has forever altered the consumer market around search and advertising thanks to its ability to summarize data and amuse and inform users. But the demands from artificial intelligence in the enterprise are far more exacting, as organizations insist AI be clean, comprehensive and in real time, he says. For this reason, Arora says AI has the potential to deliver far greater returns to businesses (see: Palo Alto CEO: 'SIEM Needs to Be Eliminated and Replaced').
"Not only do you need to have the best data to create great security outcomes, you also need to be positioned in-line to block threats," Arora says Tuesday. "The conversations are around, 'How do I start making more sense of my data?'"
The last iteration of using data in the security industry was primarily focused on offline or reactive data analysis, Arora says. But now, for the first time, Arora says, customers are turning to data and artificial intelligence for proactive and real-time outcomes focused on blocking threats. Palo Alto Networks is the best-positioned company to deliver security outcomes using artificial intelligence and machine learning, he says.
XSIAM 'Another Leg of Growth for Palo Alto'
Palo Alto Networks in late October introduced an Extended Security Intelligence and Automation Management - XSIAM - product that uses artificial intelligence to respond to attacks in real time. Arora says it's the company's first-ever outcome-based product, meaning Palo Alto Networks can demonstrate its efficiency and ability to lower total cost of ownership before the customer even deploys XSIAM (see: Palo Alto Founder Nir Zuk on Making the SOC More Autonomous).
"This is the first time you can walk in and say, 'Listen, I can reduce your mean time to respond and mean time to detect,'" Arora says. "In the past, I'd say, 'Use this. This is really good, but you won't find out until something happens.' Hopefully, this becomes another leg of growth for Palo Alto to give us more sustained top-line expansion over the long term."
Arora says Palo Alto Networks has already executed $30 million of business around XSIAM in just 16 weeks, and every single transaction has come in at over $1 million. That has transpired even as Palo Alto Networks' go-to-market teams are still getting trained around XSIAM and product developers continue to enhance the product based on customer feedback, according to Arora.
"Three months ago, customers were not asking us about AI. Now, they all want to know, 'Are you deploying AI in your security products?'"
– Nikesh Arora, CEO, Palo Alto Networks
"I think XSIAM is going to pave the way for us to drive AI-driven security transformations and outcomes," Arora says. "I'm extremely positive and cautiously optimistic about XSIAM, its early relevance and product market fit."
Arora is optimistic XSIAM could reach $100 million in bookings faster than any product in the company's 19-year history, surpassing Prisma Cloud, SASE and Cortex. XSIAM has allowed Palo Alto to reduce its mean time to detect to seconds and mean time to respond to minutes in the company's own security operations center, and Arora predicts it will fuel operations at a scale that simply isn't possible for humans (see: Palo Alto's Biggest Bets Around AppSec, SecOps, SASE & Cloud).
"If you can picture ChatGPT 10 years from now, picture AI security 10 years from now," Arora says, "you will not have humans trying to analyze because it would be too hard for humans to analyze petabytes of data. Already, the data in an organization is too much for a security analyst to analyze."
Turning a Profit
| Palo Alto Networks | Quarter Ended Jan. 31, 2023 | Quarter Ended Jan. 31, 2022 | Change |
| --- | --- | --- | --- |
| Total Revenue | $1.66B | $1.32B | 25.7% |
| Subscription and Support Revenue | $1.3B | $1.01B | 29.1% |
| Product Revenue | $352M | $308M | 14.6% |
| Net Income | $84.2M | -$93.5M | N/A |
| Diluted Earnings Per Share | $0.25 | -$0.32 | N/A |
| Non-GAAP Net Income | $331.7M | $185M | 79.3% |
| Non-GAAP Diluted Earnings Per Share | $1.05 | $0.58 | 81% |
Source: Palo Alto Networks
Palo Alto Networks' revenue of $1.66 billion in the quarter ended Jan. 31 edged out Seeking Alpha's sales estimate of $1.65 billion. And the company's non-GAAP earnings of $1.05 per share crushed Seeking Alpha's non-GAAP estimate of $0.78 per share.
The company's stock is up $12.91 - 7.74% - to $179.80 per share in after-hours trading Tuesday. That's the highest Palo Alto Networks' stock has traded since Sept. 14. Palo Alto Networks grew revenue by 22% in the Americas; 35% in Europe, the Middle East and Africa, or EMEA; and 32% in Asia-Pacific, or APAC; says Chief Financial Officer Dipak Golechha.
For the quarter ending April 30, Palo Alto Networks expects non-GAAP net income of $0.90 to $0.94 per share on revenue of between $1.695 billion and $1.725 billion. Analysts had been expecting sales of $1.74 billion.