The New Threat Landscape
FireEye's Mandia Details Advanced Threat Stages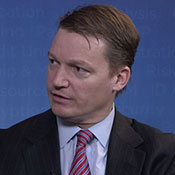 Over the last 20 years, the threat landscape has evolved, and now encompasses different kinds of advanced threats that companies are vulnerable too, both by their own doing and because of higher threat sophistication levels.
During a video interview with Information Security Media Group, FireEye's SVP and COO, Kevin Mandia, details the three stages of advanced threats; attractive nuisances, criminal activity, and nation-state activities.
The lowest level of threat happens when someone breaks into your network, takes something that matters to your company, and results in something like website defacement; that classifies as an attractive nuisance. Criminal activity comes next; whoever breached your network wanted to make money from their intrusion. The highest, and most concerning level, are nation-state activities. These attacks are highly technical, and don't follow rules of engagement; emerging countries with idealogical differences may want to start conflict with the west.
In this interview, Mandia also discusses:
Common vulnerabilities attackers are exploiting;
What security measures companies are overlooking;
Why nation-states care about the cyber battlefield.