Cyberwarfare / Nation-State Attacks , Fraud Management & Cybercrime
Mueller Reconfirms Russian Election Interference Campaign
But Special Counsel Hands Question of Any Trump Criminality to Congress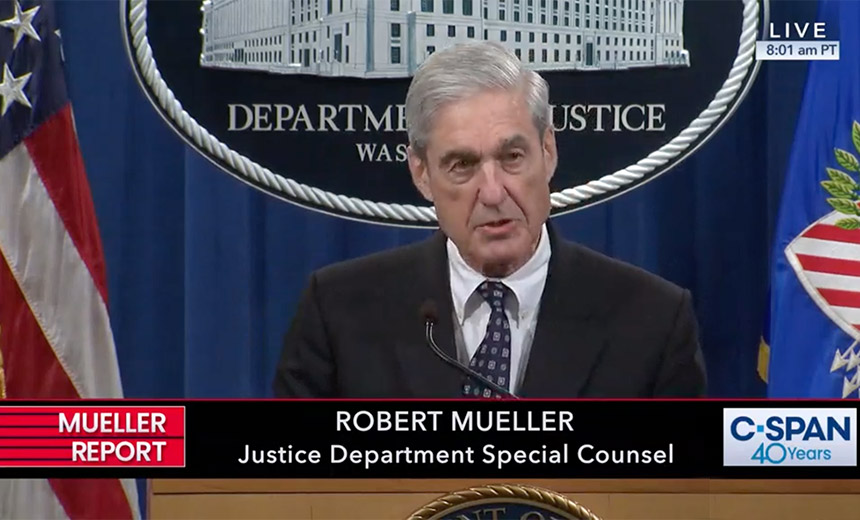 Anyone looking for clarity on whether Special Counsel Robert Mueller believes President Donald Trump is innocent of committing any crimes came away empty-handed from Mueller's press conference Wednesday, when the special counsel declined to exonerate the president. But Mueller again accused Russia of attempted election interference.
See Also: Fog of War | How the Ukraine Conflict Transformed the Cyber Threat Landscape
Mueller's surprise press conference lasted just 10 minutes and included no new information pertaining to his criminal inquiry into U.S. election interference by Moscow. But at the same time, Mueller said his investigation did not exonerate Trump.
"As set forth in the report after that investigation, if we had had confidence that the president clearly did not commit a crime, we would have said so," Mueller said at the press conference.
Mueller said that long-standing Justice Department policy prohibits charging a sitting president with a federal crime. "The special counsel's office is part of the Department of Justice and by regulation it was bound by that department policy. Charging the president with a crime was, therefore, not an option we could consider," he said.
"The Constitution requires a process other than the criminal justice system to formally accuse a sitting president of wrongdoing," he added, in an obvious reference to the ability of Congress to begin impeachment proceedings against a sitting president.
Per Article I of the Constitution, a majority of the House of Representatives can decide if a sitting president has committed an impeachable offense. At that point, the Senate tries the president, and by a vote of two-thirds, senators can remove a president from office.
Mueller declined to take any questions. He has said that if Congress wants him to testify, his choice would be to appear before the House Judiciary Committee in a closed-door session, and a transcript of the interview to be later released to the public.
Russia-Trump Probe
Mueller was appointed two years ago by Rod Rosenstein, then the country's acting attorney general, to investigate Russian interference in the 2016 U.S. presidential elections.
"The appointment order directed the office to investigate Russian interference in the 2016 presidential election. This included investigating any links or coordination between the Russian government and individuals associated with the Trump campaign," Mueller said.
The investigation resulted in five Trump advisers being charged, including his former campaign manager, Paul Manafort, as well as 12 Russian intelligence officers (see: Mueller Report: With Russian Hacking Laid Bare, What Next?).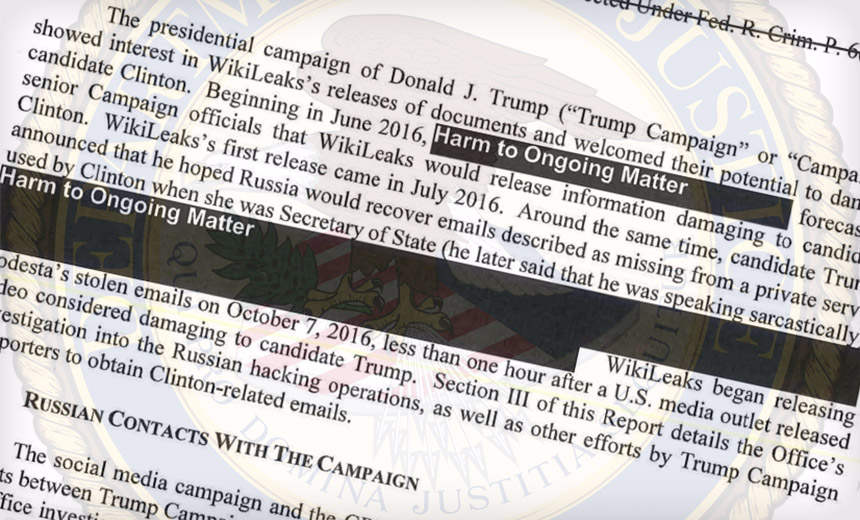 Excerpt from the Mueller report, which has been released to members of the public - and most members of Congress - only in a partially redacted form.
A report prepared by Mueller, released last month, said it was clear that "the Russian government interfered in the 2016 presidential election in sweeping and systematic fashion" (see: Released: Redacted Mueller Report on Russian Interference).
In particular, his office found that Moscow attempted to boost Trump's prospects at the expense of his Democratic presidential rival, Hillary Clinton (see: 10 Takeaways: Russian Election Interference Indictment).
"As alleged by the grand jury in an indictment, Russian intelligence officers who were part of the Russian military launched a concerted attack on our political system," Mueller said on Wednesday (see: Mueller Report: With Russian Hacking Laid Bare, What Next?).
"The indictment alleges that they used sophisticated cyber techniques to hack into computers and networks used by the Clinton campaign. They stole private information and then released that information through fake online identities and through the organization WikiLeaks," he said. "The releases were designed and times to interfere with our election and to damage a presidential candidate."
But what remains unresolved is whether Trump obstructed Mueller's investigation.
'The Report is My Testimony'
As to the question of determining Trump's innocence or guilt, Mueller has left any next steps in the hands of Congress, with his report - and only his report - serving as a guide if lawmakers choose to take it forward.
"There has been discussion about an appearance before Congress. Any testimony from this office would not go beyond our report," Mueller said at the press conference. "It contains our findings and analysis and the reasons for the decisions we made. We chose those words carefully and the work speaks for itself. And the report is my testimony. I would not provide information beyond that which is already public in any appearance before Congress."