Business Continuity Management / Disaster Recovery , Critical Infrastructure Security , Cybercrime
JPMorgan Chase Invests $12 Billion in Security Updates
Half of the Funds Dedicated to Digital Modernization, Cloud Migration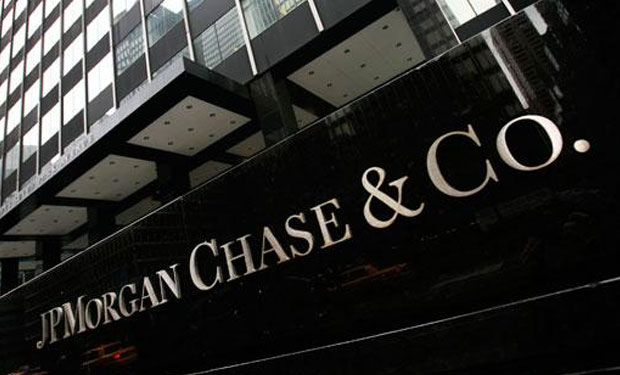 JPMorgan Chase announced it will earmark $12 billion for technological updates - including cloud migration, upgrading legacy architecture, data strategy, and emerging technologies. About half of this budget will go toward security modernization, while the other half will be invested into digital innovation, according to Jeremy Barnum, the finance firm's CFO, who spoke at a recent quarterly earnings call.
See Also: JavaScript and Blockchain: Technologies You Can't Ignore
Barnum said that the financial giant is placing security practices front and center in 2022. During the call, Barnum referred to modernization upgrades as "run-the- bank" priorities and called innovative technologies "change-the-bank" investments.
"Underpinning all of [the investments in modernization] is our continued emphasis on cybersecurity to protect the firm and our clients and customers, as well as maintaining a sound control environment," said Barnum, who noted that JPMorgan Chase continued partnering or acquiring companies with a digital lean in 2021.
The firm's Chairman and CEO Jamie Dimon said on the call that it had spent $2 billion on new data centers in 2021, all of which were cloud compatible and could run on apps. Dimon said between 30% and 50% of apps and data will move to the cloud and that due to fraud and other cybersecurity concerns, including ransomware, "growth and expansion in information security" will be pivotal.
In the last quarter of 2021, JPMorgan Chase reported earnings of $29.3 billion. It also reported raising $3.2 trillion in 2021 to support consumers, businesses, nonprofits, U.S. government entities and other organizations.
A JPMorgan Chase spokesperson told Information Security Media Group that Dimon and Barnum have focused on security in communication to shareholders for the past several years.
Security Investments and Innovation
A few modernization areas in 2022 included migrations to the cloud, upgrades to legacy architecture and developing a wider "data strategy." JPMorgan Chase executives said they continue to embrace next-generation technologies across its platform.
Barnum also again confirmed that its technology spend will remain modernization first.
And Dimon said that moving an old data center - which he noted still ran on a mainframe system - to the cloud could save between $30 million to $40 million per year. He also confirmed that "cost cutting" was not a primary reason to migrate to the cloud but would be a benefit.
In terms of innovation, Barnum said the finance giant is leading the charge, launching an executive trading platform, Onyx, which is "the world's first blockchain-based platform" and features information sharing around digital assets.
Bold Moves
Analyst for Wells Fargo Securities Mike Mayo described the bank's move to the cloud as "bold" and pressed Barnum and Dimon for more information about where the technology investments would be distributed. Some analysts were lukewarm about upping the technology budget, which grew from $9.5 billion in 2020 to the current $12 billion in 2021.
Other experts worry about how JPMorgan Chase's investment into technology will affect small to midsized financial institutions' ability to compete.
Doug Parr, former chief revenue officer and a member of the board of directors for Prairie Cloudware Inc., posted on LinkedIn, calling out the firm for "weaponizing" digital technology against its smaller competitors.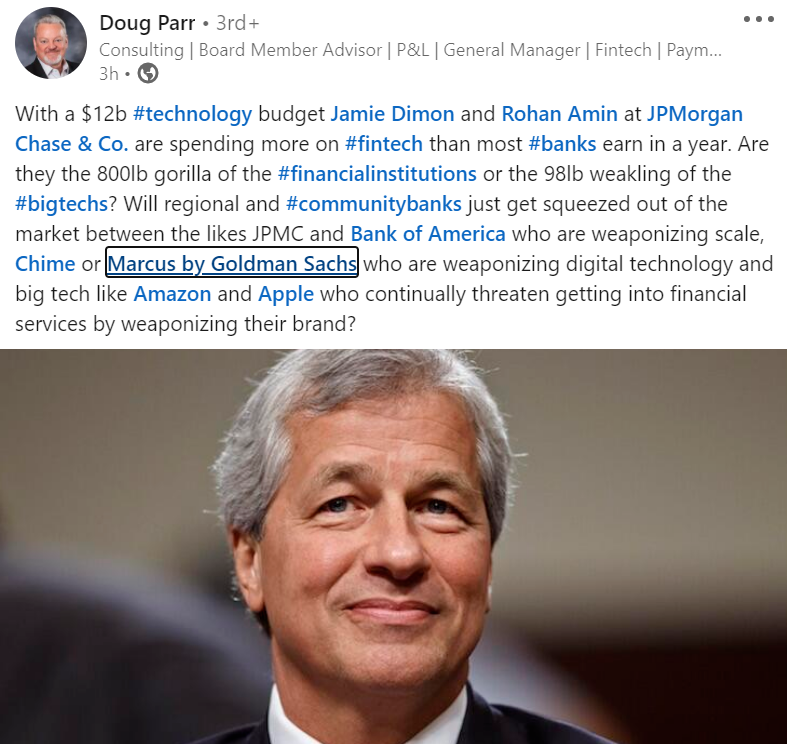 Doug Parr responds to the banking giant's technology budget spending on LinkedIn.
Parr, who is currently managing director for fintech firm P4TC LLC Consulting, tells ISMG that he believes while JPMorgan Chase's investment is not entirely negative, it puts a new level of pressure on smaller, regional or community banks that "do not have the financial scale nor the technology" to compete with a multibillion-dollar budget.
The fintech industry, Parr adds, will likely not be too heavily affected as banks large and small continue to seek innovation in financial services.
"Trust as measured by security is both a threat and an opportunity for banks as they look to compete in this environment," Parr says, adding that consumers still largely view security breaches as an obstacle toward adopting digital technology.
"It is essential that banks combat this perception by investing in strong security measures and also educating consumers and businesses on how to utilize these assets to best protect themselves," he says. "The human element has been and continues to be the weak link in most digital security."
In relation to cloud computing, Parr says the days of banks operating their own data centers are quickly disappearing - with the proliferation of AWS, Microsoft, Google and other players.
"Security and innovation at scale are no longer the exclusive domain of the 'too big to fail' banks," he says.