Governance & Risk Management , Privacy
Japan Issues Pokémon Go Safety Guidance
Players Face Real-World Hazards: Cars, Cliffs, Gun-Wielding Homeowners
As Japan sees the official in-country launch of the augmented reality game Pokémon Go, the government's cybersecurity organization has issued a related, nine-point safety and privacy guide.
See Also: Zero Trust Webinar: Research Insights Exploring the Actionable, Holistic & Integrative Approach to Security
The warnings come after reports that some users have faced robbers, been hit by cars and even been shot at by suspicious homeowners. Meanwhile, the U.K. Coast Guard has documented what appears to be the first case involving teenagers stealing a rowboat to chase a rare Pokémon across a lake.
Japan's National Center of Incident Readiness and Strategy for Cybersecurity, which reports to the Japanese government's cabinet, issued the safety guide via its website as well as Twitter. The organization says the guidance - covering everything from watching for trains and heatstroke to carrying backup power supplies and having a fallback communications strategy - applies to adult and child players alike.
"Please pass this on to people around you, especially to children, so everyone can enjoy the game, and play it safely," NISC tweeted on July 20.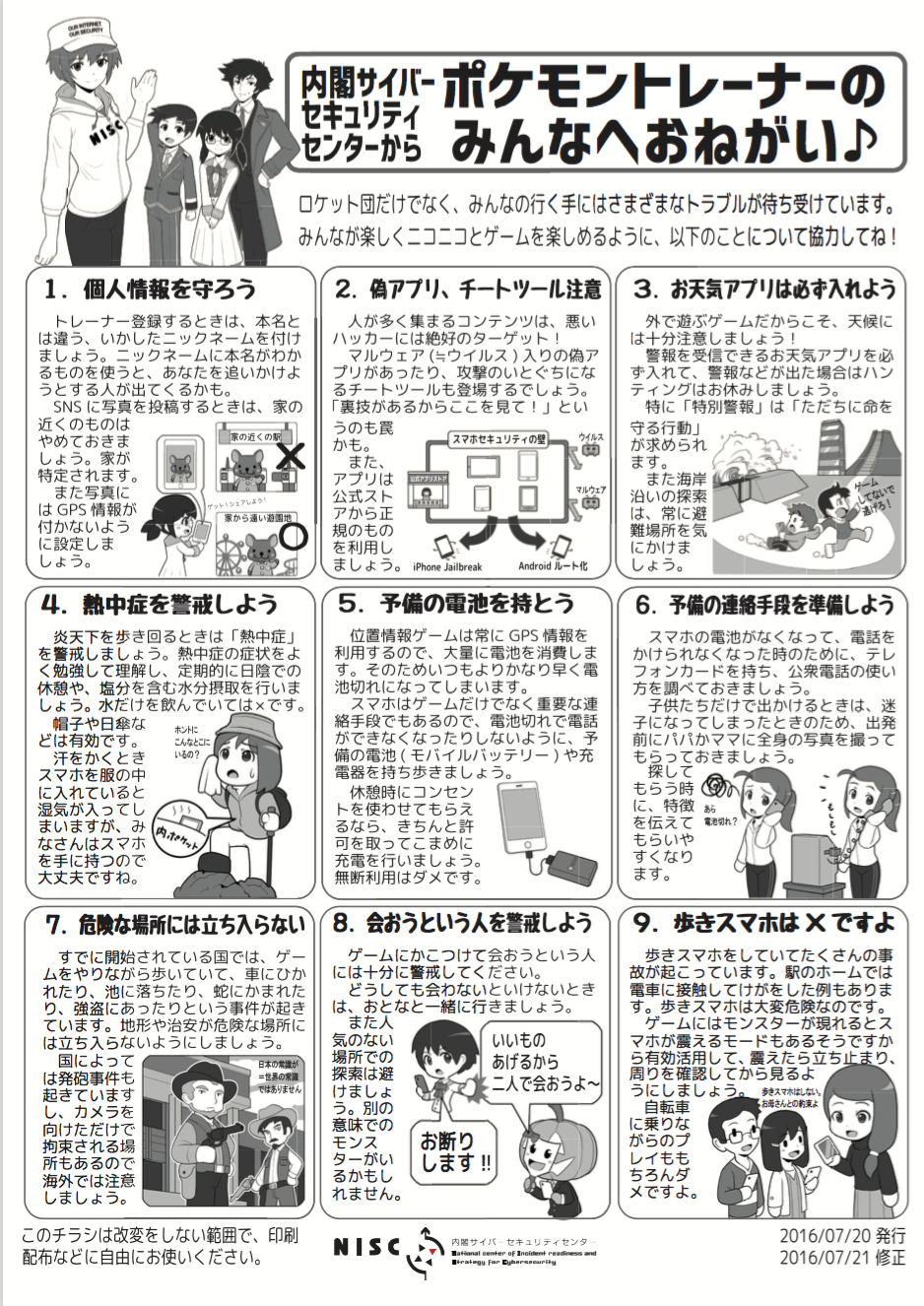 Japan's NISC cybersecurity agency issues 9-point safety guide for Pokémon users.
The guidance comes as the popularity of Pokémon Go - a game in which players chase virtual creatures in real-world locations - continues to explode. The concept is based on the trading-card game Pokémon, short for pocket monsters, that was first released in Japan in 1996.
Twenty years later, Nintendo, working with software developer Niantic- a spin-off from Google - and Japanese consortium The Pokémon Company, has released an augmented reality version of the game, which so far has been rolled out in 35 countries, including Australia, Britain, Canada and the United States, which as of July 18 had 21 million active Pokémon Go users.
On July 22, the game was officially released in Japan. The rollout has been delayed because of Niantic prepping additional server capacity after details of McDonald's sponsorship of the game leaked. With the game's launch, McDonald's has announced that 3,000 of its fast-food locations have been turned into virtual gyms where Pokémon players can do virtual battle to earn "PokéCoins" virtual game currency. But according to an alleged memo between the fast-food chain and the game makers, after the surge of interest following the leaked McDonald's sponsorship report, they worried that existing demand would exceed capacity, and delayed the rollout.
Players Face Real-World Hazards
As Pokémon Go launches in Japan, officials are clearly cognizant of the risks of users staring at their smartphones while attempting to navigate a variety of privacy as well as outdoor hazards.
NISC's guidance urges users to employ "cool names that are different from real names" as well as to beware of fake versions of Pokémon Go designed to sneak malware onto their devices. Authorities also recommend all users carry backup power supplies and that children have a fallback communications plan in case their smartphone runs out of power. The guidance also recommends users pack plenty of water, watch for signs of heatstroke and avoid "dangerous zones" when chasing virtual creatures.
To date, Pokémon Go users in other countries have already faced a variety of real-world hazards. Some players have been shot at by a Floridian homeowner, fallen off a cliff or been hit by a car.
Meanwhile, the U.K. Coast Guard on July 19 reported that it had been dispatched "to investigate reports of a group of twenty youths taking a rowing boat without permission to chase a Pokémon across New Brighton marine lake." The coast guard reported that when it arrived, the teenagers had already left.
To date, thankfully, there have been no reports of Pokémon Go leading to fatalities.
Investors Chase Nintendo's Stock
No one knows if the Pokémon Go hype will hold, potentially heralding a new age of gaming in which children desert living rooms en masse to chase virtual creatures outdoors. By every measure, however, the game so far continues to be a smash success. That includes the value of Nintendo's stock price, which has gained $18 billion since Pokémon Go was first released on July 6. On Tuesday, $6.6 billion in shares were exchanged - worth more than the combined turnover seen that day on the stock exchanges of Australia, Germany, Hong Kong and Switzerland, Bloomberg reports.
Meanwhile, analysts estimate that Apple could earn $3 billion in revenue from Pokémon Go within the next two years, thanks to users purchasing PokéCoins via the app store, the Guardian reports.
"We believe Apple keeps 30 percent of Pokémon Go's revenue spent on iOS devices, suggesting upside to earnings," Needham & Company brokerage analyst Laura Martin wrote in a July 20 client note, Reuters reports. Apple's stock price, meanwhile, has increased by 5 percent in value since the release of the game.
"It's been nuts," Andrew Clarke, Hong Kong-based director of trading at Mirabaud Asia Ltd., tells Bloomberg. "The hype over the game is huge. There's been nothing like this since ... I can't remember really."
This story has been updated to reflect the July 22 launch of Pokémon Go in Japan.