Enterprise Mobility Management / BYOD , Fraud Management & Cybercrime , Incident & Breach Response
Darknet Markets: For Cybercriminals, Paranoia Reigns
Also, Why Healthcare Continually Falters at Blocking Breaches and Ransomware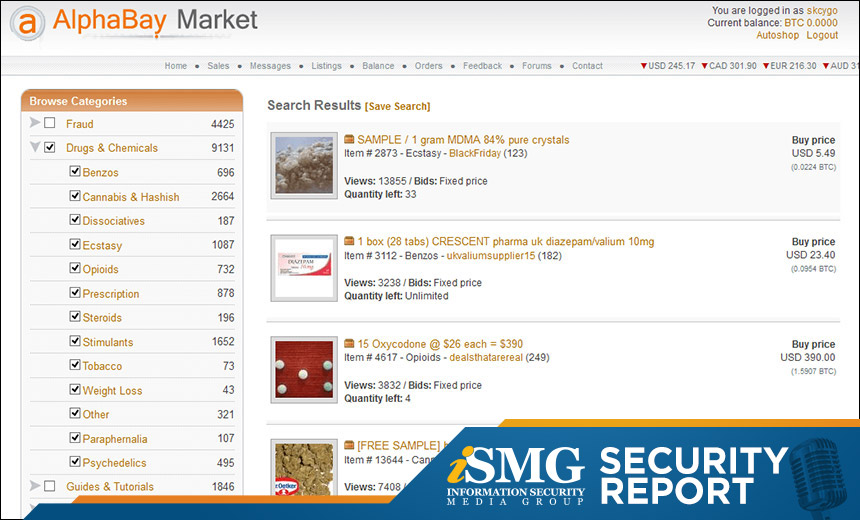 Leading the latest edition of the ISMG Security Report: Inside the darknet marketplaces that serve cybercrime-as-a-service buyers and sellers. Also, why the healthcare sector remains so bad at detecting data breaches and blocking ransomware.
In this report, you'll hear (click on player beneath image to listen):
Analysis of why the healthcare sector - as well as the transportation, manufacturing and energy sectors - need a breach-prevention "wake-up call," by Gary Warner, director of research in computer forensics at the University of Alabama at Birmingham, and Tom Kellermann, Carbon Black's new chief cybersecurity officer.
Jeremy Kirk, ISMG Managing Editor for Security and Technology, describing why the Trump administration's push to create a nationalized 5G network is a bad idea (see Memo to the White House: Forget the 5G Moonshot).
Why life is getting harder for cybercrime-as-a-service darknet marketplace buyers and sellers, according to Liv Rowley, an intelligence analyst at threat intelligence firm Flashpoint (see Cybercrime as a Service: Tools + Knowledge = Profit).
The ISMG Security Report appears on this and other ISMG websites on Fridays. Don't miss Jan. 19 and Jan. 26 editions, which respectively analyze why some ransomware victims with working backups still pay ransoms instead of manually restoring all affected systems, as well as moves to use blockchains to rid the world of data breaches.
The next ISMG Security Report will be posted on Friday, Feb. 9.
Theme music for the ISMG Security Report is by Ithaca Audio under a Creative Commons license.