Infographic: Top 5 Health Data Breaches
Biggest Incidents Affected a Total of Over 17 Million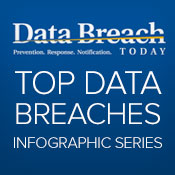 News that Community Health Systems suffered a breach by a purported "advanced persistent threat group originating from China" that affected 4.5 million patients illustrates yet again the healthcare sector's vulnerability. This infographic from DataBreachToday takes a look at the top five data breaches impacting the U.S. healthcare sector in recent years.
See Also: Zero Trust Webinar: Research Insights Exploring the Actionable, Holistic & Integrative Approach to Security
The largest reported healthcare breach involved the Defense Department's TRICARE healthcare program, which serves active-duty troops and their dependents, as well as military retirees. One of TRICARE's business associates, Science Applications International Corp., reported in 2011 that backup tapes containing information on about 4.9 million patients were stolen from the car of an SAIC employee who was responsible for transporting them between federal facilities.