Cybercrime , Fraud Management & Cybercrime , Incident & Breach Response
India's Ministry of Defense Website Defaced
Questions Raised on Whether Chinese Involved in Incident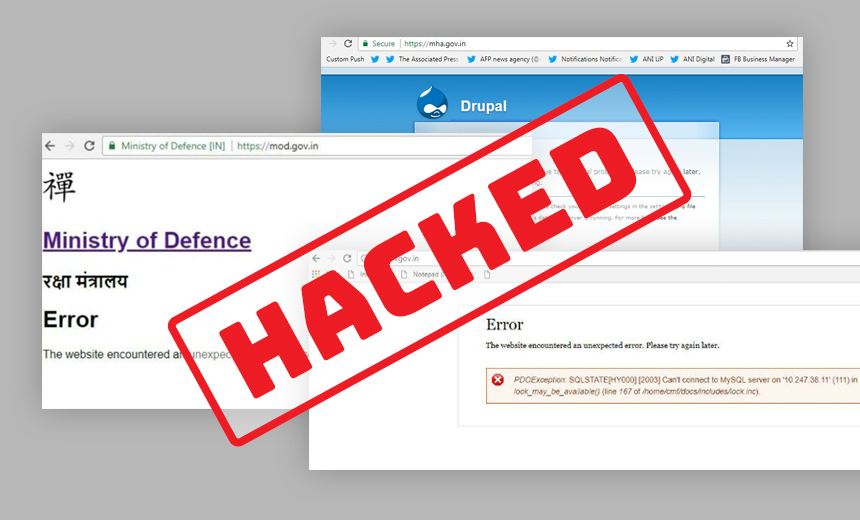 The website of India's ministry of defense was allegedly hacked Friday evening, according to Press Trust of India. Defense Minister Nirmala Sitharaman said via Twitter that "appropriate action" had been initiated in the matter, adding that "steps would be taken to prevent any such eventuality in the future."
See Also: Live Webinar | Cutting Through the Hype: What Software Companies Really Need from ASPM
Action is initiated after the hacking of MoD website ( https://t.co/7aEc779N2b ). The website shall be restored shortly. Needless to say, every possible step required to prevent any such eventuality in the future will be taken. @DefenceMinIndia @PIB_India @PIBHindi

— Nirmala Sitharaman (@nsitharaman) April 6, 2018
Ministry officials said there were Mandarin characters on the website and there were indications that hackers from China were involved in defacing it. The website is maintained by the National Informatics Centre, an entity which works under Ministry of Electronics and Information Technology. "The National Informatics Centre, which maintains the website, is trying to restore it," a spokesperson in the ministry told the Press Trust of India.
On Friday, the website displayed an "error" message and asked users to "try again later." The website also began to display what appears to be a Chinese character, which purportedly means "home."
Some security experts question whether the Chinese were actually involved in the incident.
"This seems to be a provocation by some other country so that India and China fight over this ..." says Prashant Mali, a cyber law advocate.
"No state actor would like to leave behind trails in a cyberattack, as the best value of an attack is access of classified intelligence," says a security practitioner, who wished to remain anonymous. "In this case, the attacker has chosen to deface the website and leave Mandarin characters on website. It appears to be a childish attempt to think that is an attack by the Chinese,".
Other Sites Down
Meanwhile, the Law Ministry, Home Ministry and Labour Ministry websites were also found to be inaccessible, with error messages, the publication Hindu reports. MHA was informed by the National Informatics Center that the website was facing difficulties due to a storage problem and that the issue was being fixed.
India's Cyber Security chief Gulshan Rai confirmed to the Hindu that the failure was due to a storage problem in the NIC network, leading to a problem on some of the sites.
Websites Targeted
Defacing or hacking of government websites has become common in India.
Last year, the Ministry of Electronics and IT said that over 700 websites of central and state departments were hacked in the past four years, with most of the hackers involved arrested.
CERT-In's report says 199 websites of central ministries/departments and state governments were hacked in 2016; 164 in 2015; 155 in 2014; and 189 in 2013.
Union Home Minister Rajnath Singh has been reiterating that India needs to create new barriers to block hackers.
In the past few weeks, a number of government website vulnerabilities have been pointed out by a French researcher who goes by the name Elliot Alderson on Twitter, taking on the name of the main protagonist in the popular TV series "Mr. Robot."
"In theory, a government website is very secure, but in India, it's another story," Alderson wrote on Twitter after discovering vulnerabilities on the Telangana government portal.
In recent months, breaches have hit Bharat Sanchar Nigam Limited, the state-run telecommunications company; India Post; the Indian Space Research Organization and others.
Risk Mitigation Plan
"It's difficult for India's government to investigate hack attacks against its websites because the government lacks those with forensics expertise," says Rakshit Tandon, a cybersecurity adviser at the Uttar Pradesh Police Task Force.
Many security practitioners say India needs to develop a systematic approach to training experts to monitor cyber threats and send alerts to various departments. The government needs more well-trained techno-legal staff with good data compilation and analytical skills to help in the battle against hackers.