Cyberwarfare / Nation-State Attacks , Endpoint Security , Fraud Management & Cybercrime
Huawei Accuses US Government of Hack Attacks
White House 'Using Every Tool At Its Disposal' to Disrupt Business, Firm Claims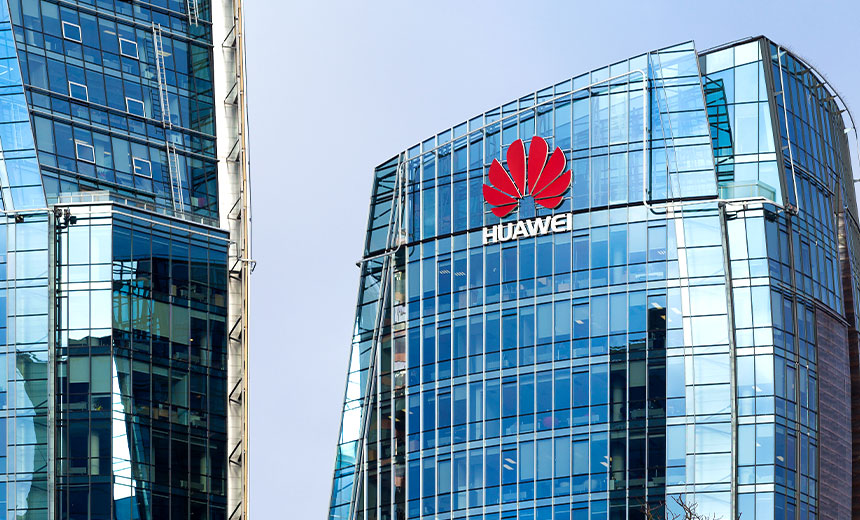 The battle between Huawei Technologies and the White House continues to intensify.
See Also: Live Webinar | Navigating the Difficulties of Patching OT
The Chinese manufacturing giant on Tuesday accused the U.S. of "using every tool at its disposal" to disrupt its business, including cyberattacks and employee intimidation, as well as launching federal probes of already settled civil cases against Huawei.
"For the past several months, the U.S. government has been leveraging its political and diplomatic influence to lobby other governments to ban Huawei equipment," Huawei says in a media statement released Tuesday.
For more than a year, Huawei and the U.S. government have been locked in a bitter dispute, with Washington lobbying allies to avoid using the Chinese manufacturer's telecommunications gear for sensitive operations, including national 5G network rollouts. Without releasing any evidence, the White House has accused Huawei of being too susceptible to interference from China's government for its gear to be trustworthy, and thus posing a security risk (see: Huawei's Role in 5G Networks: A Matter of Trust).
Huawei is the world's largest telecommunications equipment manufacturer and second-largest smartphone maker.
Its disagreement with the White House is playing out in the midst of the ongoing U.S.-China trade war, with the countries imposing billions of dollars in tariffs on each other's goods. U.S. President Donald Trump has long accused China of being behind massive intellectual property theft campaigns, unfair trading practices and currency manipulation.
Huawei Hits Back
Fighting between Huawei and the U.S. government intensified further this week as the manufacturer leveled fresh accusations at the Trump administration. it's accusing the White House of having been "using every tool at its disposal - including both judicial and administrative powers, as well as a host of other unscrupulous means - to disrupt the normal business operations of Huawei and its partners."
Without citing any evidence, Huawei has accused the U.S. government of "launching cyberattacks to infiltrate Huawei's intranet and internal information systems," as well as using FBI agents to pressure Huawei employees into sharing information about the company and "to turn against the company and work for them."
The technology giant says that furthermore, employees' visas are being denied, and employees are being detained, subjected to unlawful searches as well as targeted via government-authorized entrapment schemes. It also claims that the U.S. government has been "mobilizing and conspiring with companies that work with Huawei, or have a business conflict with Huawei, to bring unsubstantiated accusations against the company."
"As a general matter, we do not confirm or acknowledge the existence of investigations," a Department of Justice spokeswoman tells Information Security Media Group. "In all matters, our investigative techniques comply with the law and all subjects of investigations enjoy the same rights to due process afforded by our Constitution and safeguarded by an independent judiciary."
An unnamed individual with knowledge of the matter tells the Wall Street Journal that this year, at least three employees working in Huawei's U.S. offices have been contacted by U.S. law enforcement agencies. It also reports that the FBI and federal prosecutors from the Eastern District of New York have been probing Huawei's business practices in the U.S.
White House Lobbying Continues
The White House continues to press allies to not use Huawei gear for any sensitive applications. In a visit this week to Ireland, U.S. Vice President Mike Pence, appearing alongside Irish Prime Minister Leo Varadkar, issued a fresh broadside.
"It is well known that Chinese law requires Chinese telecom companies to provide Beijing's vast security apparatus with access to any data that touches their network," Pence said Tuesday at a joint press conference. "There's no place for untrusted vendors anywhere in our secure 5G supply chain. And we're working with telecom companies across the world to develop 5G alternatives to Huawei."
Huawei continues to deny that it assists with Chinese intelligence agencies.
Huawei does not work with Chinese intelligence and never has. Doing so would run contrary to our commitment to our customers, and Huawei would never betray that trust.

— Huawei Facts (@HuaweiFacts) September 4, 2019
Huawei is also the focus of two federal indictments. In January, the Department of Justice unsealed a 13-count indictment in federal court against Huawei, Chief Financial Officer Wanzhou Meng, as well as Huawei business affiliates Huawei Device USA Inc. and Skycom Tech Co. Ltd. The charges include bank and wire fraud and violating international sanctions against Iran.
The same month, federal prosecutors in Seattle unsealed a 10-count indictment against Huawei and Huawei USA, accusing them of having stolen trade secrets from T-Mobile US, based in Bellevue, Washington. As part of its investigation, the FBI obtained emails revealing that in July 2013, Huawei offered bonuses to employees based on the value of information they stole from other companies around the world and provided to Huawei via an encrypted email address, the Justice Department said.
Huawei has denied the allegations, branding the T-Mobile charges as being "politically motivated."
The Department of Justice has said that 80 percent of its economic espionage cases trace back to the Chinese government, trade secret theft cases have a Chinese nexus more than 60 percent of the time, and that it launches investigations in response to requests by alleged victims (see FBI's Wray on China's Counterintelligence Capabilities).
Fresh Technology Theft Questions
On Tuesday, Huawei also criticized a Friday report in the Wall Street Journal, which said that the Justice Department is probing fresh allegations of technology theft as well as questionable recruitment of employees from rivals.
At issue in the technology theft probe are U.S. patents for smartphone camera technology issued to Rui Oliveira, a multimedia producer from Portugal, the Wall Street Journal first reported. After Oliveira was unsuccessful in his attempt to sell his patent-pending designs to Huawei in 2014, he accused the company of stealing the designs and using them in its EnVizion360 camera.
In March, Huawei sued Oliveira in Texas federal court, seeking a declaration that it was not infringing on his patents.
"Huawei categorically rejects Mr. Oliveira's claims of patent infringement, and has provided detailed documents in support of its stance," including visual comparisons of the two devices, the company says in a Tuesday statement. It also accuses Oliveira of "taking advantage of the current geopolitical situation" to try and "capitalize on a dispute" that it says should be handled in U.S. civil court.
The company also points to its 30 years of investment in R&D as well as 180,000 employees. "This is the source of our company's success," it says. "No company becomes a global leader in their field through theft."