Cyberwarfare / Nation-State Attacks , Fraud Management & Cybercrime
How Trump Talks About Russian Hacking
President Blames Russia for Election Interference, But Sometimes Blames Others, Too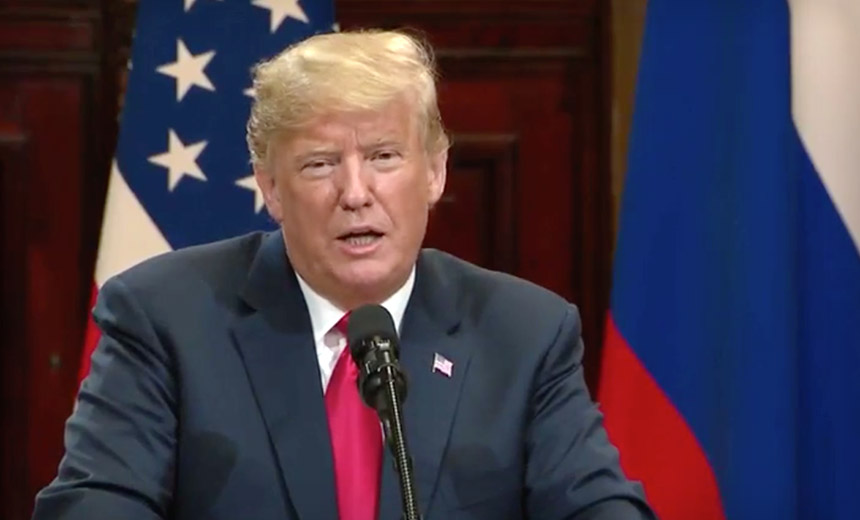 Did Russia wage an information warfare campaign that employed hacking, doxing and social media manipulation to attempt to influence the 2016 U.S. presidential election outcome?
See Also: Fog of War | How the Ukraine Conflict Transformed the Cyber Threat Landscape
The combined U.S. intelligence establishment and some senior lawmakers have been saying yes since October 2016, which is when the Department Of Homeland Security and Office of the Director of National Intelligence first accused Russia of using hacking in an attempt to interfere in U.S. elections.
In early 2017, the U.S. intelligence community blamed President Vladimir Putin for authorizing the campaign, which they said targeted both political parties, backed by the use of Guccifer 2.0 and DCLeaks.com online personas for dumping stolen data as well as WikiLeaks for further leaking stolen emails and documents. The intelligence agencies have also accused the Kremlin of running a propaganda machine designed to influence U.S. public opinion and said Russian actors probed - and in at least one case penetrated - electoral boards' systems, as well as targeted voting machine vendors.
Since then, U.S. intelligence chiefs this year have warned in no uncertain terms that the interference efforts remain ongoing and show no signs of diminishing in the run up to the U.S. midterm elections in November.
President Donald Trump has also stated that he believes that Russia attempted to interfere in U.S. elections. But at times, he appears to have also suggested that the interference may be attributable to other countries instead (see US Election Interference: White House Response Questioned).
Early 2017 Briefing
On January 6, 2017, Trump received a highly classified briefing, two weeks before he took office, with evidence that Putin had ordered the 2016 election interference campaign.
While that fact has been previously reported, on Wednesday, The New York Times described some of the evidence presented to Trump.
"The evidence included texts and emails from Russian military officers and information gleaned from a top-secret source close to Mr. Putin, who had described to the CIA how the Kremlin decided to execute its campaign of hacking and disinformation," the Times reported.
'I Think It Was Russia'
Five days after receiving the briefing, Trump blamed Russia, albeit with some qualifications. "As far as hacking, I think it was Russia. But I think we also get hacked by other countries and other people," Trump said in a Jan. 11, 2017, press conference. "And I have to say this also; the Democratic National Committee was totally open to be hacked. They did a very poor job."
Subsequently, Trump repeatedly qualified suggestions that the Kremlin may have attempted to interfere in the U.S. elections. "I'll go along with Russia. Could've been China, could've been a lot of different groups," Trump told CBS News in April 2016.
In May 2016, Trump told NBC: "If Russia hacked, if Russia did anything having to do with our election I want to know about it."
Helsinki Summit
Fast-forward to Monday, when Trump held a press conference with Putin after their summit in Helsinki. A reporter asked Trump if he would denounce Russia's interference and tell Putin to never do it again.
"My people came to me, [U.S. Director of National Intelligence] Dan Coats, came to me and some others; they said they think it's Russia. I have President Putin. He just said it's not Russia," Trump said. "I will say this: I don't see any reason why it would be."
Trump's comments triggered a firestorm, with senior lawmakers from both sides of the aisle calling on him to stand up to Putin.
Director of National Intelligence Dan Coats also issued a statement that he reportedly didn't first clear with the White House. "We have been clear in our assessments of Russian meddling in the 2016 election and their ongoing, pervasive efforts to undermine our democracy, and we will continue to provide unvarnished and objective intelligence in support of our national security," Coats said.
Trump 'Clarifies' Remarks
In response, Trump met with some members of Congress on Tuesday, when he attempted to "clarify" his remarks. "In a key sentence in my remarks, I said the word 'would' instead of 'wouldn't,'" Trump said. "The sentence should have been: I don't see any reason why I wouldn't - or why it wouldn't be Russia. ... Sort of a double negative."
Trump added: "We're doing everything in our power to prevent Russian interference in 2018."
In the same meeting, he also stated: "I have full faith and support for America's great intelligence agencies. Always have. And ... I accept our intelligence community's conclusion that Russia's meddling in the 2016 election took place."
Trump added: "Could be other people also; there's a lot of people out there."
'Is Russia Still Targeting the U.S.?'
On Wednesday, meanwhile, a reporter asked Trump: "Is Russia still targeting the U.S.?"
The president said: "Thank you very much, no."
Later that day, however, White House Press Secretary Sarah Sanders said that the president wasn't responding directly to the question but rather that he was "saying 'no' to answering questions" as reporters were being ushered out of the room by a press handler.
In an interview broadcast Wednesday evening, Trump said that during his Monday summit, he'd dressed Putin down for the election interference.
"I let him know we can't have this," Trump told CBS Evening News. "We're not going to have it, and that's the way it's going to be."
How to Battle Information Warfare ?
Trump has continued to respond to questions about whether the White House should be doing more to counter the Kremlin by saying that he's being "very tough" on Russia.
The need to do so would appear to be clear. In February, Adm. Michael S. Rogers, then the director of the NSA and chief of U.S. Cyber Command, told lawmakers that not enough was being done - diplomatically, economically, and in terms of "cyber" capabilities - to counter Russia.
"My concern is, I believe that President Putin has clearly come to the conclusion there's little price to pay here and that therefore, I can continue this activity," Rogers told the Senate Armed Services Committee.
The same month, the nation's intelligence chiefs warned that they'd seen no decrease in Russia's influence operations since the run up to the 2016 U.S. presidential election (see Russia Will Meddle in US Midterm Elections, Spy Chief Warns).
Moves to Safeguard States
Since then, the White House has imposed sanctions on Russians and Russian organizations accused of information warfare and begun sharing information with states and election boards.
Some states, however, are saying that too little is being done too late by the federal government to help secure their electoral systems as well as to mitigate ongoing Russian information warfare campaigns, including via social media outlets (see Will Congress Lose Midterm Elections to Hackers?).
On Tuesday, the White House issued a "fact sheet" listing how the Trump administration "is protecting our elections and standing up to Russia's malign activities."
While it rounds up a number of moves, including sanctions in March against 16 Russian individuals and entities "for their roles in Russian interference in the 2016 Presidential election," it does not list the Justice Department's Friday indictment of 12 Russian GRU military intelligence officers accused of doing the same.
The White House could not be immediately reached for comment about whether the omission was intentional.