Fraud Summit 2013: Banks' Key Risks
Payments, Mobile Threats, DDoS Among Session Topics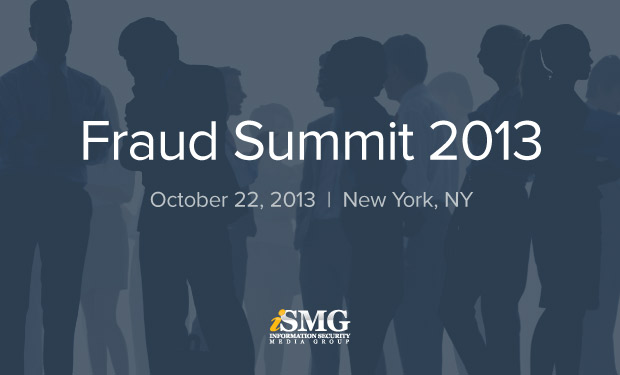 On Oct. 22, Information Security Media Group will host its inaugural Fraud Summit 2013 in East Rutherford, N.J.
See Also: Live Webinar | How To Meet Your Zero Trust Goals Through Advanced Endpoint Strategies
This event, sponsored by Attachmate, Easy Solutions, Brighterion and Neustar, will focus on the top fraud trends affecting financial institutions and strategies for mitigating risk.
Stan Szwalbenest, senior vice president at Chase Bank, will offer a keynote address describing how the bank has applied a layered approach to securing its digital banking channels.
Another featured speaker, Avivah Litan, vice president and distinguished analyst at the consultancy Gartner, will look ahead to the top fraud trends for 2014. And Mitch Zahler, senior vice president of cybersecurity at HSBC, will discuss information sharing initiatives in the wake of distributed-denial-of-service attacks attacks targeting U.S. banks.
The conference will also offer an overview of the state of corporate account takeover incidents and phishing attacks as well as emerging insider threats.
Details on registration are now available.
A Focus on Fraud
The timing is right for a forum focused on financial fraud and the cybersecurity risks plaguing U.S. banking institutions, says Tim Webb, director of fraud management for RBS Citizens Financial Group, a $127.4 billion institution based in Rhode Island. Webb is one of the panelists slated to talk about U.S. card fraud trends.
"We can expect an increasingly volatile fraud environment leading up to, and during, the U.S. transition to EMV," Webb says. "The counterfeit attack rate will increase significantly in the next two years."
Another featured speaker, Julie Conroy, a research director at consultancy Aite, says concerns about financial fraud linked to mobile transactions should be top of mind at all financial institutions in 2014.
"While the mobile channel has the potential to be more secure than the online channel, we're also seeing some of the hard lessons of banks' and merchants' initial forays into online commerce relived in mobile, as innovation precedes security and the bad guys discover the gaps before they can be secured," Conroy says.
Other presentations include:
Identity Theft vs. Identity Fraud: Moderated by Tracy Kitten, executive editor of BankInfoSecurity and CUInfoSecurity, this panel, which includes Claudel Chery of the U.S. Postal Inspection Service and Nikki Junker of the Identity Theft Resource Center, will discuss the differences between identity theft and identity fraud, and the impact each has on consumers and organizations.
2013 Faces of Fraud: Moderated by Tom Field, vice president of editorial for ISMG, this panel will dissect the latest insights from BankInfoSecurity's annual Faces of Fraud survey. Panelists include Daniel Ingevaldson, CTO of Easy Solutions; Michael Wyffels, CTO of QCR Holdings; and Litan of Gartner Research.
How DDoS Taught Competitors to Make Information Sharing Work: Moderated by Tracy Kitten, this panel will review how information sharing has proven valuable in helping institutions anticipate DDoS attack patterns and tactics. Panelists include Mitch Zahler, senior vice president of cybersecurity for HSBC, Rodney Joffe of Neustar, and Wyffels of QCR Holdings.
The Event
The Summit runs from 8 a.m. until 4 p.m., followed by a cocktail and networking hour. It will be held at the Sheraton Meadowlands Hotel & Conference Center, which is four miles from New York City. The center is holding hotel rooms up until 5 p.m. on Sept. 30. Conference attendees who reserve rooms by Sept. 30 receive a discounted rate.
Registration for the event is still open, but space is limited. View the full schedule.