Fraud, Security at the Crossroads
Andreas Baumhof, CTO, ThreatMetrix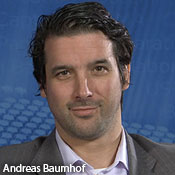 Fraud threats are ever-evolving, and the fraudsters continually adapt to anti-fraud solutions. The pressure is on banks to bring new technologies and strategies to the fight, says Andreas Baumhof.
See Also: 'Deepfake' Technology: Assessing the Emerging Threat
The CTO of anti-fraud vendor ThreatMetrix, Baumhof says fraud and security are at a critical crossroads, and he advises banking/security leaders on how to move forward effectively.
In an interview about fighting fraud, Baumhof discusses:
How fraud threats have evolved;
Why today's anti-fraud strategies fall short;
What is needed to truly deter fraudsters.
Baumhof is an internationally known cybersecurity expert with deep experience in the encryption, PKI, malware and phishing markets. Before joining online security and anti-malware provider ThreatMetrix, Baumhof was an executive director, CEO and co-founder of Australia-based TrustDefender, provider of security and fraud-detection technologies. He also previously served as co-founder and chief technology officer of Microdasys Inc., provider of deep-content security solutions. While there, Baumhof developed the first SSL proxy and has patents pending in Europe and the U.S.
Additional Summit Insight:
Hear from more industry influencers, earn CPE credits, and network with leaders of technology at our global events. Learn more at our Fraud & Breach Prevention Events site.