Events , RSA Conference , RSA Conference Featured
Europe: Data Breach Problem Unknown
Brian Honan Details EU Breach Information Deficit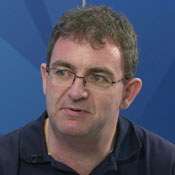 A casual review of information security news suggests that the Europe is largely immune to the data breach epidemic sweeping the United States, owing to the paucity of high-profile European breaches that make news headlines.
See Also: ISMG Editors: RSA Conference 2023 Preview
To date, there's apparently been no breach of Target, Home Depot or Sony proportions that's come to light in Europe.
But Brian Honan of Dublin-based BH Consulting warns that while news of EU breaches may not be making headlines, European businesses have no obligation to publicly disclose when they have been breached. As a result, it's not clear whether Europe is currently suffering a U.S.-style data-breach epidemic.
In an interview recorded at RSA Conference 2015, Honan discusses:
How EU data-breach notification regulations differ from U.S. laws;
The intricacies of the forthcoming EU Data Protection Directive, which could include mandatory breach notification relating to personal data;
How the EU data breach notification landscape - and related discussions - must evolve;
Honan is an experienced information security professional who heads BH Consulting. In 2008, Honan founded - and contineues to lead - the first-ever Computer Emergency Response Team for Ireland. He is also a cybersecurity advisor to the association of European police agencies known as Europol.
Additional Summit Insight:
Hear from more industry influencers, earn CPE credits, and network with leaders of technology at our global events. Learn more at our Fraud & Breach Prevention Events site.