Events , RSA Conference , RSA Conference Videos
Detecting Insider Fraud
Randy Trzeciak on Latest Insider Threat Research, Strategies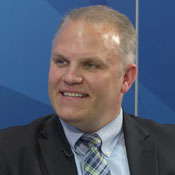 Emerging technologies open new doorways for insiders to commit fraud. Insider threat expert Randy Trzeciak talks about the latest tools and techniques to spot rogue insiders before they steal the digital goods.
See Also: LIVE Webinar | Stop, Drop (a Table) & Roll: An SQL Highlight Discussion
In an interview recorded at RSA Conference 2015, Trzeciak discusses:
The newest insider threat trends;
Effective tools and techniques for curbing fraud;
New research aimed at helping ID rogue insiders.
Trzeciak is the Insider Threat Research Team Technical Lead in the Software Engineering Institute at Carnegie Mellon CERT. He heads a team focusing on insider threat research; threat analysis and modeling; assessments; and training. He has over 20 years of experience in software engineering; database design, development and maintenance; project management; and information security. He also is an adjunct professor at Carnegie Mellon's Heinz College, Graduate School of Information Systems and Management. Trzeciak holds an MS in Management from the University of Maryland and a BS in Management Information Systems and a BA in Business Administration from Geneva College.
Additional Summit Insight:
Hear from more industry influencers, earn CPE credits, and network with leaders of technology at our global events. Learn more at our Fraud & Breach Prevention Events site.