Critical Infrastructure Security , Governance & Risk Management , Legislation & Litigation
Deal to Reopen US Government Approved
President Trump Signs Measure to Fund Government for Three Weeks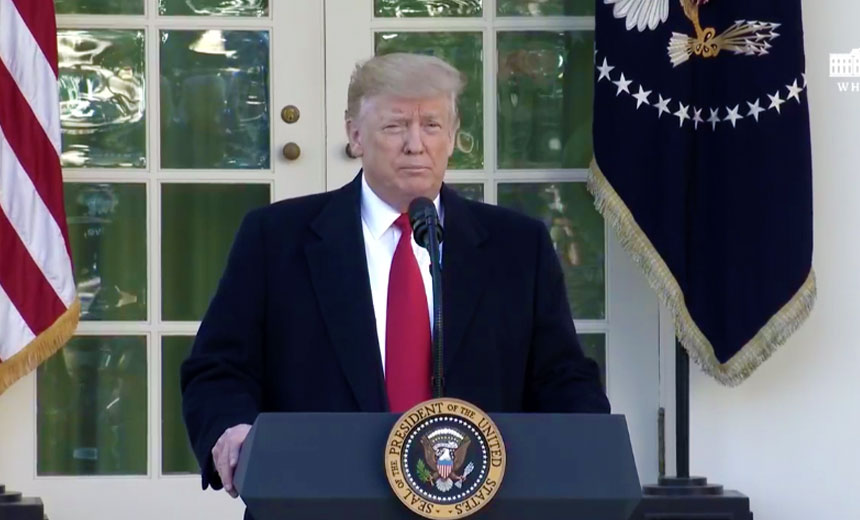 (This story has been updated.)
See Also: Fireside Chat | Zero Tolerance: Controlling The Landscape Where You'll Meet Your Adversaries
President Donald Trump late Friday signed a short-term funding bill to temporarily end the 35-day federal government partial shutdown. The bill does not include money for a border wall.
During an appearance on Friday afternoon in the White House Rose Garden, Trump announced he had agreed to sign the bill, which would fund the federal government until Feb. 15 while Congressional Democratic and Republican leaders negotiate a funding bill for security along the U.S-Mexican border. The Senate and House both approved the temporary funding measure later Friday.
If an agreement to fund border security is not reached by Feb. 15, Trump implied he'd consider declaring a national emergency to obtain funding to build a barrier. "If we don't get a fair deal from Congress, the government will either shut down on Feb. 15 again or I will use the powers afforded to me under the laws and the Constitution of the United States to address this emergency," he said.
Trump said federal workers will receive back pay "as soon as possible" as part of the deal.
In recent weeks, Trump has demanded that any measure reopening the government include $5.7 billion in funding for a barrier on the U.S.-Mexico border. Bowing to mounting pressure from Republicans and Democrats alike, Trump agreed to reopen the government while the border wall funding issue continues to be debated.
Now that the short-term funding measure has been enacted, lawmakers will return to negotiations over border security while federal workers return to their jobs.
Shutdown Impact
The fallout from the shutdown had been becoming increasingly dire, with many Transportation Security Administration at the nation's airports calling in sick after not receiving their paychecks and shortages of Federal Aviation Administration air traffic control personnel causing flight delays.
FBI agents said this week that the government shutdown is impeding their investigations, including cybersecurity probes, with the lack of funding compromising their ability to pay confidential informants and leading to legal processing delays (see: FBI Agents Say Shutdown Damaging Cyber Investigations).
The shutdown was also affecting some health data security and privacy regulatory activities (see: Government Shutdown Impact on Health Data Security, Privacy).