Enterprise Mobility Management / BYOD , Governance & Risk Management , Privacy
Cook: Apple Wanted More Discussions with Feds
Apple Chief Says He Learned of Court Order from the Press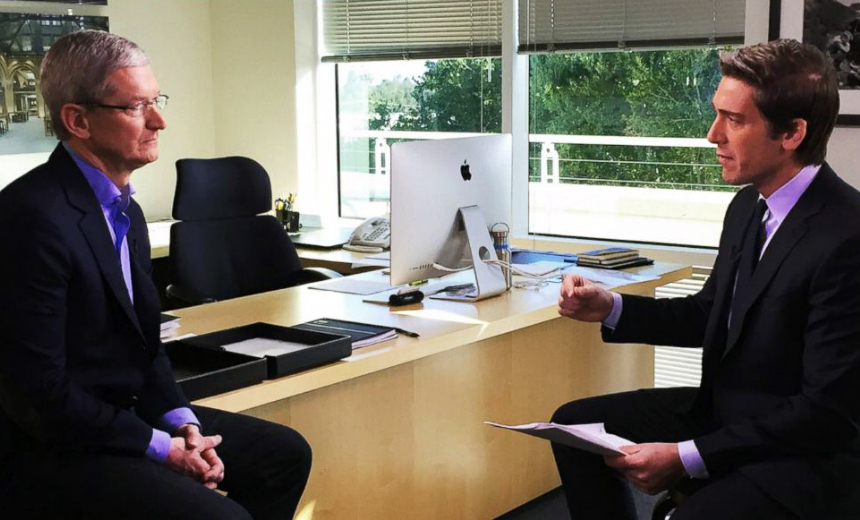 Apple CEO Tim Cook says he would have liked to have had more discussions with the federal government before authorities sought a court order to compel Apple to help the FBI break into the iPhone used by one of the San Bernardino shooters.
See Also: OnDemand | Zero Tolerance: Controlling The Landscape Where You'll Meet Your Adversaries
"We found out about the filing from the press, and I don't think that's the way the railroad should be run," Cook said in an interview with ABC News anchor David Muir. "And, I don't think that something so important to this country should be handled this way."
Tim Cook responds to David Muir's question on whether he wants to plant the flag of privacy on Syed Farook's iPhone.
Speaking with ABC News on Feb. 24, Cook said public safety is "incredibly important," as is protecting people's data. "The trade-off here is we know that doing this [helping FBI break into the phone] could expose people to incredible vulnerabilities," he said.
Cook reiterated that creating a master key to bypass the iPhone's password is something Apple would not do. "This would be bad for America," he said. "It would also set a precedent that I believe many people in America would be offended by."
Authorities recovered the iPhone following the December 2015 shootout in the California city that killed gunman Syed Rizwan Farook and his accomplice and wife Tashfeen Malik hours after they attacked his work colleagues, leaving 14 dead and 22 wounded (see Apple, FBI Escalate Crypto Fight).
U.S. Magistrate Judge Sheri Pym ordered Apple to assist the FBI by updating the iPhone to disable security features designed to wipe its memory, slow passcode entry or block brute-force attacks. Cook said at the time Apple would fight the "dangerous" court order.
Coverage of the dispute between the FBI and Apple has triggered a spirited debate (see Apple vs. FBI: Readers Debate).