Governance & Risk Management , Incident & Breach Response , Managed Detection & Response (MDR)
China, U.S. Plan Cyber 'Code of Conduct'
Obama Presses Chinese Government to Lower Cyber Tensions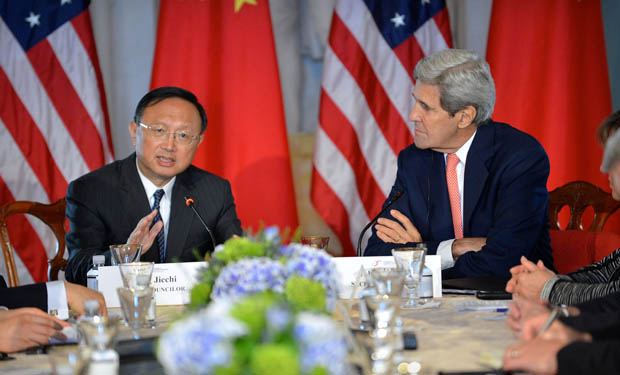 At the end of a two-day China-U.S. strategic summit in Washington, U.S. Secretary of State John Kerry said June 24 that both sides had agreed on the need to create and abide by a new cyber "code of conduct."
See Also: Live Webinar | Generative AI: Myths, Realities and Practical Use Cases
"We continued our conversations on cybersecurity and on cybertheft. And the United States is deeply concerned about cyber-incursions that have raised security questions and, frankly, harmed American businesses," Kerry said at a press conference following the event. "We believe very strongly that the United States and China should be working together to develop and implement a shared understanding of appropriate state behavior in cyberspace, and I'm pleased to say that China agreed that we must work together to complete a code of conduct regarding cyber-activities.
The White House did not detail a timeline for when the agreed-upon China-U.S. cyber code of conduct might be completed. But Kerry said he hoped related efforts would now begin "very, very quickly."
Meeting of Leaders
President Obama met with China's Vice Premier Liu Yandong, Vice Premier Wang Yang and State Councilor Yang Jiechi at the close of the two days of talks - the U.S.-China Strategic and Economic Dialogue and Consultation on People-to-People Exchange - coordinated by the U.S. State Department. Obama pressed Chinese officials over the country's cyber-related activities, urging them to take steps to lower related tensions between the U.S. and China, according to the White House (see U.S.-China Fisticuffs Over Cyberspying).
Cyber-espionage has become an even hotter topic than usual in the wake of the discovery that the U.S. Office of Personnel Management was breached, which Congress has been told may have resulted in tens of millions of data breach victims (see OPM Breach Victims: Tens of Millions?). Multiple government officials - speaking on condition of anonymity - as well as information security experts have traced that breach to attackers operating from China, according to news reports.
But the White House has refrained from making any attribution of the OPM attacks to China or anyone else, and that stance continued in this week's meetings. "The president raised ongoing U.S. concerns about China's cyber and maritime behavior, and he urged China to take concrete steps to lower tensions," the White House said in a statement, without elaborating about what those steps might be.
China's Reaction
Summarizing the two-day meeting alongside Kerry, Chinese State Councilor Yang Jiechi, via an interpreter, said June 24 that the Chinese government does not condone hacking. "On cyber issues, China affirmed its firm position - firm opposition and crackdown on all forms of cyber hacking, as well as China's readiness for cooperation with the U.S. on cybersecurity on the basis of mutual respect and equality and mutual benefit," Yang said. "China urged the U.S. to respect facts, work together with China to improve the cyber relations between the two countries."
At a subsequent press conference, Kerry declined to answer any OPM-related questions, saying that a related FBI investigation remains ongoing. He noted that Chinese officials had voiced concerns about every nation playing by the same rules. "There was an honest discussion about - without accusations, without any finger-pointing - about the problem of cybertheft and whether or not it was sanctioned by government or whether it was hackers and individuals that the government has the ability to prosecute," he said. "But on the broader issue of cybersecurity, China also has a very clear interest in making certain that everybody is behaving by a certain set of standards."
At an intelligence conference on June 25, however, Director of National Intelligence James Clapper said China is the "leading suspect" behind the massive OPM breach.
More Than Cybersecurity
The summit discussions were not limited to cybersecurity matters. Indeed, the State Department says they touched on trade, investment, economic reforms and climate change, featuring input from everyone from actor Matt Damon, to Chinese film director Zhang Yimou, to NBA All-Star Yao Ming. "We've also had candid conversations about standards of behavior in cyberspace," Kerry said in a joint press conference with the Chinese delegation. "We agree there is value in bilateral and international cooperation on these issues."
With the rapid economic growth seen by China in recent years now in decline, economists say that Chinese leaders have been scrambling to refocus their economy on domestic consumption, creating more service-oriented businesses, as well as promoting more innovative and "clean" technologies (see China Delays Tough Bank Tech Rules). And a large portion of the meetings, also led by U.S. Secretary of the Treasury Jacob Lew, focused on economic matters.
Obama, too, touched on related efforts. "The president expressed support for China's efforts to reform and rebalance its economy, and for our ongoing bilateral investment treaty negotiations, while urging China to address major economic challenges in the areas of its currency, technology and investment policies," the White House said.