Anti-Phishing, DMARC , Data Loss Prevention (DLP) , Fraud Management & Cybercrime
Canadian Hacker-for-Hire for Russia Pleads Guilty
Karim Baratov Fed Stolen Webmail Passwords to Alleged Russian Intelligence Agent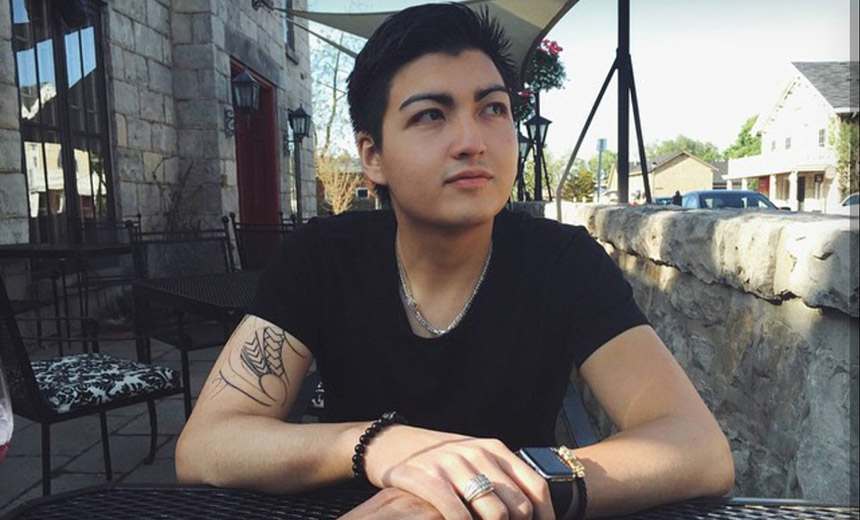 Karim Baratov, 22, appeared in U.S. federal court Tuesday, where he pleaded guilty to hacking Gmail and Yandex webmail accounts of individuals earmarked by Russia's FSB state security service and exchanging the victims' account passwords for money (see Alleged Yahoo Hacker-For-Hire: Plea Reports Are Premature).
See Also: Live Webinar | A Buyers' Guide: What to Consider When Assessing a CASB
Baratov, a Canadian citizen and resident who was born in Kazakhstan, was one of four men named in a 47-count federal indictment filed in February and unsealed in March. The indictment charges the suspects with computer hacking, economic espionage and other criminal offenses tied in part to a 2014 hack attack against search giant Yahoo that exposed 500 million accounts.
Baratov was not accused of having anything to do with the Yahoo hack itself.
The other three men named in the indictment are Dmitry Aleksandrovich Dokuchaev, 33, and Igor Anatolyevich Sushchin, 43, who are both alleged FSB agents, as well as Alexsey Alexseyevich Belan, aka "Magg," 29. All three have been charged with compromising Yahoo's network and gaining the ability to access Yahoo accounts.
The FSB employed Baratov as a "hacker for hire," prosecutors allege. "When they desired access to individual webmail accounts at a number of other internet service providers, such as Google and Yandex ... Dokuchaev tasked Baratov to compromise such accounts," the U.S. Department of Justice says in a statement (see Outsourcing Cyber Espionage Landed Russia in Trouble).
The Kremlin has denied those allegations.
Baratov was arrested in Ontario on March 14. He subsequently waived his right to an extradition hearing. After being extradited to the United States in August, he waived his right to a bail hearing and has remained in custody (see Accused 'Hacker for Hire' for Russia Pleads Not Guilty).
"With the assistance of our law enforcement partners in Canada, we were able to track down and apprehend a prolific criminal hacker who had sold his services to Russian government agents," said U.S. Attorney Brian J. Stretch.
Announcing Baratov's plea deal, Stretch said that the world's worsening cybercrime problem was being compounded "when cybercriminals such as Baratov are employed by foreign government agencies acting outside the rule of law."
'Good Faith Negotiations'
Baratov's plea deal saw him reverse his initial not-guilty plea (see Accused 'Hacker for Hire' for Russia Pleads Not Guilty).
His attorney, Toronto-based Amedeo DiCarlo, tells Information Security Media Group that the shift came after "substantial good faith negotiations" between Baratov's U.S. defense team and prosecutors. "The next stages will involve sentencing given special consideration to many factors discussed in our meetings" with prosecutors, he adds.
Bartatov is due to be sentenced on Feb. 20, 2018, and faces a maximum prison sentence of 20 years. DiCarlo, however, says that prosecutors will be recommending a maximum term of seven to nine years for his client, due to his cooperation.
As part of his plea deal, Baratov pleaded guilty to nine counts in the 41-count indictment.
Webmail Account Hacking to Order
The Justice Department says that Baratov admitted to functioning as a webmail-hacking-as-a-service provider. "As part of his plea agreement, Baratov not only admitted to his hacking activities on behalf of his co-conspirators in the FSB, but also to hacking more than 11,000 webmail accounts in total on behalf of the FSB conspirators and other customers from in or around 2010 until his March 2017 arrest by Canadian authorities," the Justice Department says.
"Baratov advertised his services through a network of primarily Russian-language hacker-for-hire web pages hosted on servers around the world. He admitted that he generally spear-phished his victims, sending them emails from accounts he established to appear to belong to the webmail provider at which the victim's account was hosted, such as Google or Yandex," the Justice Department says. "Once Baratov collected the victims' account credentials, he sent his customers screen shots of the victims' account contents to prove that he had obtained access and, upon receipt of payment, provided his customers the victims' log-in credentials."
DiCarlo tells ISMG that his client only hacked 80 accounts for an individual that prosecutors have since outed as being an FSB agent. "As detailed in the plea agreement, Karim only attempted to hack 80 accounts for the individual he knew as 'PatrickNag,' and was only successful with eight of the accounts," DiCarlo says. "The other hacks that the government mentioned were requests from other individuals entirely unrelated to the FSB, as far as we know."
DiCarlo said that until his client saw the indictment, he did not know that Patrick Nag was actually the FSB's Dokuchaev, as alleged in the indictment. "He also did not know that the accounts that Patrick Nag asked him to hack were accounts discovered and selected as a result of the Yahoo hack," DiCarlo says. "He had no contact with any of the other co-defendants."
Other Suspects: Russian Residents
Of the four men named in the indictment, Baratov is the only one who has been arrested. The Justice Department believes the others are in Russia.
The United States has no extradition treaty with Russia. But the three suspects will face a lifetime of risk that they could be detained if they travel to or through any country that shares an extradition treaty with the United States, or which is otherwise friendly to U.S. law enforcement requests (see Russia's Accused Hacker Repeat Play: Extradition Tug of War).
Yahoo Cites FSB in Court
The identity of some of its alleged hackers has not gone unnoticed by Yahoo.
In September, attorneys for Yahoo - now part of Verizon - argued that class-action lawsuits filed against the search giant over three separate breaches that it suffered should be dismissed, in part, due to the extraordinary nature of the 2014 hack.
"This litigation arises out of one of the most organized, sophisticated and relentless criminal attacks in cybercrime history, sponsored by the Russian Federal Security Service," Yahoo said in its motion to dismiss the trial. "This was no ordinary security breach, but a full-fledged, state-sponsored cyber assault designed to evade Yahoo! Inc.'s security measures, avoid Yahoo's detection systems, and adapt and evolve to meet Yahoo's security defenses and upgrades."
Judge Lucy Koh of the U.S. District Court for the Northern District of California disagreed, ruling that the lawsuits on behalf of affected U.S. consumers should proceed (see Judge Nixes Bid to Quash Suit Filed by Yahoo Breach Victims).