Biometrics , Governance & Risk Management , Privacy
Calif. May Ban Facial Recognition in Police Body Cameras
Legislation Awaits Governor's Signature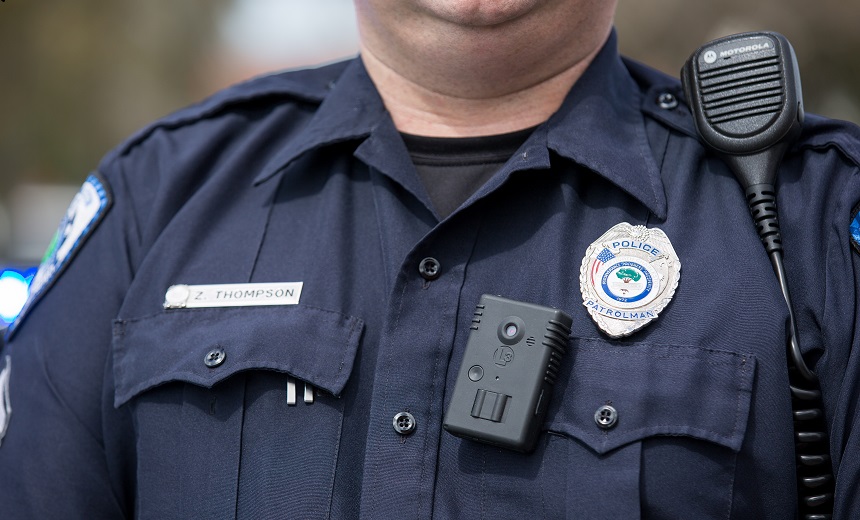 Lawmakers in California have voted to ban the use of facial recognition technology within the body cameras that police wear.
See Also: Live Webinar | Navigating the Difficulties of Patching OT
On Thursday, the California Assembly passed a final version of a bill, AB-1215, which was first introduced in February by Assemblyman Phil Ting. The California Senate approved the bill Wednesday.
The bill now goes to Gov. Gavin Newsom, although it's not clear if he plans to sign it into law anytime soon, according to a report in the Los Angeles Times.
The legislation would ban the use of facial recognition technology in police body cameras for three years starting on Jan. 1, 2020. The original bill called for a much longer ban, until 2027.
The bill is designed to ensure that the privacy of California citizens is better protected when they interact with police, proponents say.
"The use of facial recognition and other biometric surveillance is the functional equivalent of requiring every person to show a personal photo identification card at all times in violation of recognized constitutional rights," the bill states. "This technology also allows people to be tracked without consent. It would also generate massive databases about law-abiding Californians and may chill the exercise of free speech in public places."
Under the legislation, state officials would have three years to study the effects of biometrics and facial recognition technology to determine how accurate it is and what implications it has for privacy rights. The bill, however, does not ban all uses of the technology by police - only the use within body cameras that officers wear.
The legislation also strives to protect individuals from what it calls "false positives," because facial recognition technology has been found to sometimes misidentify people, especially "women, young people, and people of color." Several studies have shown that facial recognition technology mistakenly identifies people, according to Wired.
Amazon's Rekognition facial recognition product has faced scrutiny over how it could be used by police and government agencies (see: Amazon Rekognition Stokes Surveillance State Fears).
Differing Viewpoints
"Without my bill, facial recognition technology essentially turns body cameras into a 24-hour surveillance tool, giving law enforcement the ability to track our every movement," Ting says. "Let's not become a police state and keep body cameras as they were originally intended - to provide police accountability and transparency."
Over the years, body cameras were seen as a way to help protect the rights of individuals when they interact with police by providing an unbiased view of what happened. But that has changed as some police departments have used the cameras to essentially take mugshots of people they meet in order to create a database, according to the Electronic Frontier Foundation, which supported the California bill.
Government use of face surveillance—particularly when used with body-worn cameras in real-time— has grave implications for privacy, free speech, and racial justice. We urge Governor Newsom to sign this important bill into law. https://t.co/ztEWhDuYK1

— EFF (@EFF) September 12, 2019
"Making matters worse, law enforcement agencies conducting face surveillance often rely on images pulled from mugshot databases, which include a disproportionate number of people of color due to racial discrimination in our criminal justice system," according to the Electronic Frontier Foundation, which is calling on the state to go further and implement a permanent ban.
But some law enforcement officials defend the use of facial recognition technology in the fight against crime.
Ron Lawrence, president of the California Police Chiefs Association, told the LA Times that police were not using facial recognition technology to target the general public.
"I think that there is some underlying current that some groups believe law enforcement is using it to spy on the general public and that is simply not true," Lawrence told the publication, adding that he was pleased that the ban would only last three years under the bill.
Some cities in the Golden State have begun addressing privacy concerns on the local level.
In San Francisco and Oakland, for instance, city officials have totally banned the use facial recognition by police and other city agencies.
International Concerns
Outside the U.S., the use of facial recognition technology is also causing concern.
In London, for example, officials are investigating the use of facial recognition technology by a developer in at least two CCTV systems in one area of the city as a way to keep a check on crime (see: Facial Recognition Use in UK Continues to Stir Controversy). ).
In Sweden, a school district was fined about $20,000 under the European Union's General Data Protection Regulation law after officials discovered a facial recognition pilot program to track students' attendance was started without proper parental consent (see: Facial Recognition Use Triggers GDPR Fine). .
(Managing Editor Scott Ferguson contributed to this report.)