Endpoint Security , Fraud Management & Cybercrime , Malware as-a-Service
Broadcom Reaches $10.7B Deal to Buy Symantec Enterprise
Symantec Will Focus on its Consumer Business
Broadcom says it plans to acquire Symantec's enterprise security business for $10.7 billion in cash.
See Also: Live Webinar | Navigating the Difficulties of Patching OT
The deal relieves Symantec of a business line where it faced aggressive competition. For Broadcom, a large player in the semiconductor industry, it means gaining a suite of well-developed security offerings as it seeks to grow its infrastructure business.
The two companies had been in discussions about a deal, but those fell apart last month (see: Broadcom Reportedly Suspends Bid for Symantec).
The companies are aiming for the transaction to close in the first quarter of Broadcom's 2020 fiscal year. But the deal will be subject to regulatory approval in the U.S., the European Union and Japan.
The U.S. rejected Broadcom's proposed $117 acquisition of Qualcomm last year on national security grounds. Since then, Broadcom has moved its headquarters from Singapore to the U.S.
Broadcom says the deal will create a predictable, recurring revenue stream and that it expects to receive "double-digit cash-on-cash returns on its investment."
"M&A has played a central role in Broadcom's growth strategy, and this transaction represents the next logical step in our strategy following our acquisitions of Brocade and CA Technologies," says Hock Tan, Broadcom's president and CEO.
Broadcom announced in July 2018 it would acquire CA Technologies for $18.9 billion. In November 2016, it said it would acquire Brocade, which specializes in fiber storage area networks and IP switching, for around $5.5 billion.
More than three-quarters of Broadcom's revenue comes from its semiconductor business, which includes networking, broadband and enterprise storage. The remainder comes from its infrastructure business, which includes mainframe and enterprise software, as well as storage area networking.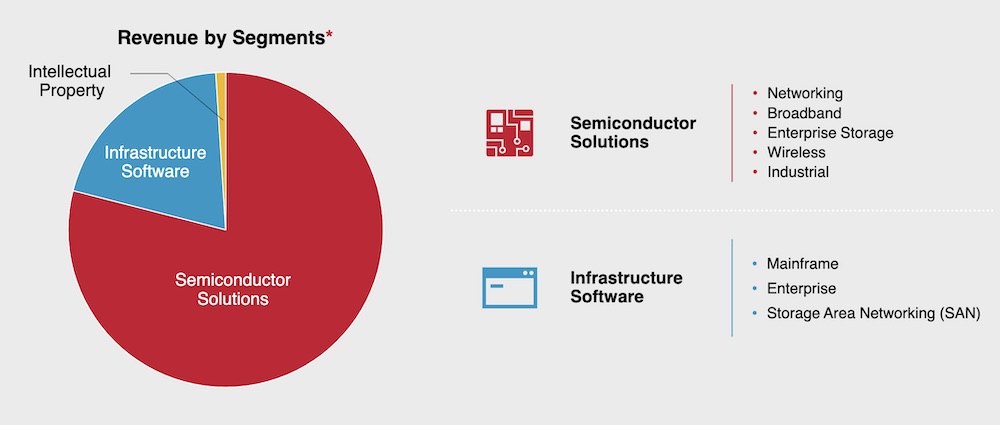 An overview of Broadcom's business published by the company in June (Source: Broadcom)
Security has become paramount as companies face an ever-rising array of cyber threats and regulatory consequences for security missteps. The acquisition of Symantec enterprise will give Broadcom greater capabilities to sell security software and services in parallel with the infrastructure products that came from CA Technologies.
Symantec's Rough Patch
A long-recognized name in the consumer anti-virus business, Symantec had a more challenging time in the enterprise market. The evolving threat environment saw a bevy of innovative startups launch with the aim of preventing data breaches and providing better investigative tools.
"Symantec and other security industry stalwarts earned the reputation of being slow to adapt to the needs of the market, allowing an army of start-ups to shake the industry with new offerings," analysts with IDC wrote in a June 2018 report. "Companies like Cylance, Carbon Black, and CrowdStrike transformed security by addressing dire end-user needs and listening to customers."
Still, Symantec has a wide range of enterprise offerings as well as security operations centers. Its products include a cloud access security broker; endpoint protection; web and network security gateways; email; and data loss prevention software.
That business, however, had a notable stumble in the fourth quarter of fiscal 2019, which ended on March 31. Symantec slightly missed its revenue expectation and warned that its fiscal 2020 results would be well below expectations (see: Symantec CEO Exits as Company Misses Earnings Forecast).
Symantec's CEO, Greg Clark – who came on board in 2016 when Symantec acquired Blue Coat – resigned the same day as the results were announced. The leadership change came as Symantec was also investigating an accounting irregularity involved a $13 million customer transaction incorrectly reported as revenue.
Symantec: Focus Now on Consumers
The sale of its enterprise business will allow it to focus on its consumer line, which Symantec thinks it can grow. Its consumer business contributed to 90 percent of its operating income during the first quarter of fiscal 2020.
"The consumer cyber safety business is steady, predictable and we believe can grow at mid-single digits, generating strong cash flow and earnings," Symantec says.
Its offerings include its suite of consumer products, as well as Lifelock, a subscription service intended to help consumers detect identity theft incidents.
Symantec expects to get $8.2 billion after taxes if the deal goes through. As a result, it plans to increase a share repurchase to $1.6 billion. Also, the cash proceeds from the deal will be distributed to shareholders in a $12 per share special dividend, it says.
The company says it's seeking a new CEO for the consumer business.