Fraud Management & Cybercrime , Governance & Risk Management , Legacy Infrastructure Security
Will Twitter Sink or Swim Under Elon Musk's Direction?
Billionaire Faces Cybersecurity, Disinformation, Legal and Other Challenges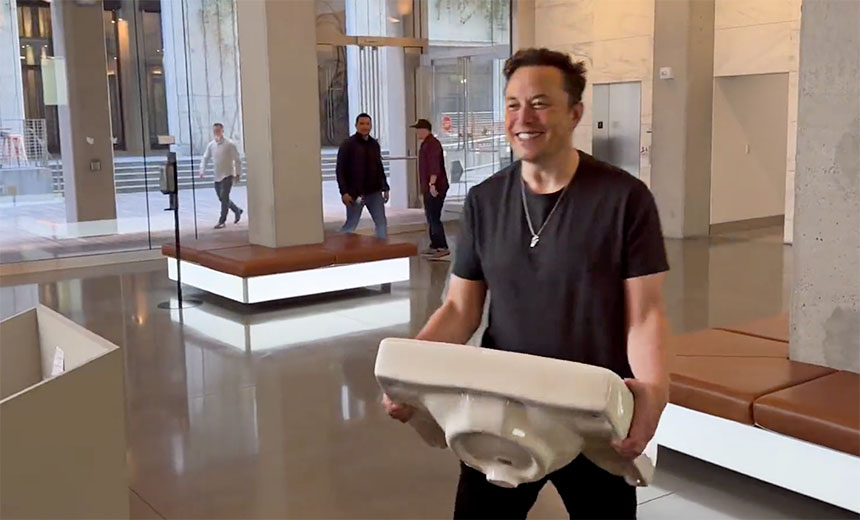 Elon Musk executed what may be the most expensive prop comedy gag of all time, as he lugged a sink into Twitter's San Francisco headquarters Wednesday to announce his takeover of the social network.
See Also: Live Webinar Tomorrow | Cyber Resilience: Recovering from a Ransomware Attack
Musk's accompanying "let that sink in" tweet could be, in terms of bang for the buck, the most groan-inducing dad joke of all time. But it shouldn't hide the very real business and security challenges facing Musk, who's already CEO of Tesla and SpaceX, as he takes the helm of a social network sporting 230 million customers.
"The bird is freed," Musk tweeted late Thursday, before the $44 billion deal closed Friday, and Twitter filed for delisting from the New York Stock Exchange as it goes private.
Like so much with Musk, commentators have been attempting to deduce his planned intentions on numerous fronts. Musk styles himself as a showman, having once tweeted - apparently about nothing in particular - that "the most entertaining outcome is the most likely."
But it will take more than a porcelain prop for the richest person in the world to successfully lead Twitter to a better and brighter future.
Here are just 11 of the challenges Musk faces:
Free speech: The bird might be free, but what does that mean for what gets said on the platform and who gets to say it? As part of his takeover move, Musk told Twitter's board that to deliver on free speech, the site needed to be private. But what happens next remains unclear. Will Musk allow or rescind bans on some big names, such as Donald Trump? What about Kanye West - legal name "Ye" - whose Twitter account was locked earlier this month after he posted an anti-Semitic tweet, which the site deleted?
Disinformation campaigns: How will Musk combat multiple countries, including Russia, regularly using Twitter to run 4D campaigns - for dismiss, distort, distract and dismay - that seek to create, sow or amplify debate about everything from immigration and transgender rights to school shootings and the FBI's search of Mar-a-Lago, while also promoting absurd conspiracy theories about vaccines, 5G, Jewish space lasers and more (see: FBI: Disinformation Campaigns Seek to Exploit Capitol Siege)?
Cybersecurity: Poor decision-making by Twitter's executives has jeopardized the security of users, whistleblower Peiter Zatko - Twitter's cybersecurity chief until he was fired in January - told the Senate Judiciary Committee last month. While Twitter dismissed his allegations, Musk now owns a company that Zatko said was caught in a crisis of lurching from one cybersecurity failure to the next, perpetually in reactive mode, and failing to devote sufficient resources to removing misinformation and hate speech, among other serious challenges.
Regulations: Congressional Republicans have made no secret of their wish to regulate social networks, including Twitter, and they'll be closely watching Musk's moves. As Bellingcat founder Eliot Higgins tweets: "A lack of self-regulation on Twitter will just increase the likelihood of government regulation of all social media, it's as simple as that."
Europe: Twitter won't just sail at Musk's discretion. "In Europe, the bird will fly by our rules," Thierry Breton, the European commissioner for the internal market, tweeted.
The U.S. Supreme Court: America's highest court is set to hear two lawsuits each with the potential to profoundly affect all of social media. Silicon Valley owes much to Section 230 of the Communications Decency Act, a 1996 law shielding online platforms from liability for user-generated content. Conservative Justice Clarence Thomas, in a particular, has been itching for an opportunity to neuter the law. He may get his chance in Gonzalez v. Google, a lawsuit contending that content recommendation algorithms cross the line between the protected activity of passively hosting content and the liability-inducing act of developing it. Also on the docket is Twitter v. Taamneh, a lawsuit contending Twitter, Facebook and Google provided material support to terrorists by letting the Islamic State use their platforms. Twitter attorneys argue that the U.S. Court of Appeals for the 9th Circuit erred in not dismissing the damages-seeking suit brought by relatives of a victim of a 2017 ISIS attack in Istanbul.
Morale: Musk will ideally retain Twitter's best cybersecurity professionals and recruit even more. Yet he had earmarked 75% of Twitter's staff for layoffs, a number he later reportedly walked back. Even without Musk, The Washington Post reported that layoff plans were to cut 25% of Twitter's 7,500 workforce.
Domain expertise: Musk has been an avid user of Twitter. As a man who co-founded an online bank and now runs companies that build electric cars, space rockets, brain-machine interfaces, flamethrowers and more, Musk can obviously wear different hats. Running social networks requires a specific skill set, not least when it comes to combating spam and disinformation, as well as illegal or harmful information, including child sexual abuse and material promoting terrorism or extremism.
Profits: Whatever path Musk chooses, if he scares away advertisers, it will be an expensive mistake. Cue Musk's tweet to advertisers: "Twitter obviously cannot become a free-for-all hellscape, where anything can be said with no consequences!"
Hoi polloi: Who will set and enforce rules that deliver on Musk's vision without running into past problems? "The reason I acquired Twitter is because it is important to the future of civilization to have a common digital town square, where a wide range of beliefs can be debated in a healthy manner, without resorting to violence," Musk tweeted. "I didn't do it because it would be easy. I didn't do it to make more money. I did it to try and help humanity, whom I love." But what about people who don't want to use Twitter in a manner that complies with Musk's intended terms and conditions?
Focus: Does Musk even want Twitter anymore? "My guess is that Twitter becomes a mess for a year, Elon gets bored, hands off to another CEO, and then eventually tries to sell it off again to recover some of his money from it a year or two from now," tweets cybersecurity specialist Matt Tait.
What state Twitter might be in once Musk is done with it remains unclear. Then again, when you're the richest person in the world, what's a few billion here or there, especially if it keeps people talking about you and guessing at your next move?