Encryption & Key Management , Next-Generation Technologies & Secure Development , Security Operations
Own a Piece of Bitcoin History
US Marshals Auction Bitcoins Seized in High-Profile Cases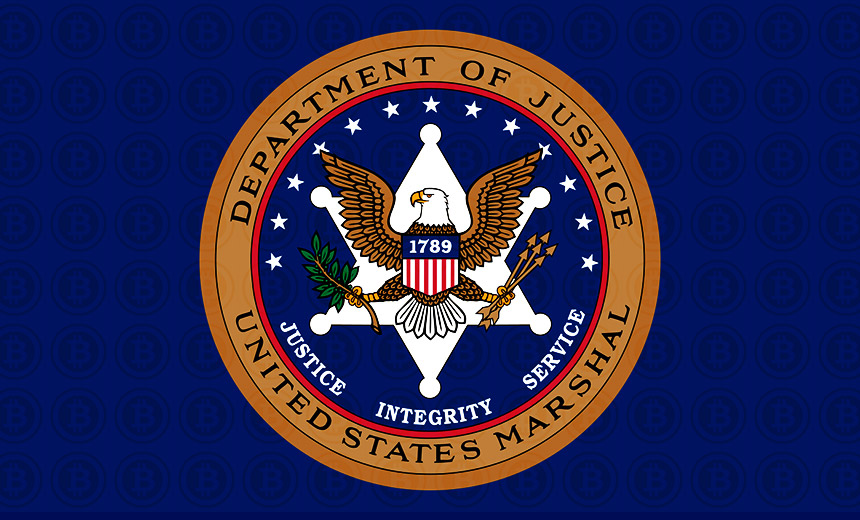 Do you have $100,000 burning a hole in your pocket and an abiding love of bitcoins? If so, then the U.S. Marshals Service has an offer you can't refuse.
See Also: Live Webinar | Navigating the Difficulties of Patching OT
On August 8, the Marshals Service (part of the Department of Justice) announced that it's auctioning 2,719.32669068 bitcoins obtained by the U.S. government via forfeitures related to nine different cases - some federal, others civil or administrative. At current exchange rates, those bitcoins would be worth $1.6 million.
"The [U.S. Marshals Service] does not make any representations or warranties regarding bitcoin."
Now, the Marshals Service is planning to sell all of those bitcoins in a single block to the highest bidder, having been "granted authority to manage and sell these bitcoins through court orders" related to the nine cases.
Until 12pm ET on August 18, anyone of any nationality - provided they're not on the U.S. Treasury Department's Office of Foreign Assets Control list of "Specially Designated Nationals" - who wants to bid for the bitcoins can register with the Marshalls Service. Would-be bidders must provide some personal details, including a copy of a government-issued photo ID, their name, address, phone number, email address and taxpayer identification number. Any non-publicly traded entities or syndicates who want to register, meanwhile, must list personal details relating to anyone who's an officer of the company, owner, trustee or on its board of directors.
Would-be bidders must also send $100,000 - payable in U.S. dollars only - as a deposit to the Asset Forfeiture Fund at the Federal Reserve Bank of New York. The wire transfer must originate at a U.S. bank.
"The USMS will notify all bidders about their eligibility to participate in the auction by email no later than 5:00 PM EDT on Thursday, August 18, 2016," the auction notice reads. "If the USMS determines that you are not an eligible bidder, the deposit funds will be returned, and you will not be eligible to participate in the online auction."
Everyone else will get the heads-up that they're eligible to participate and then be allowed to submit a single, signed bid on Aug. 22, between 8:00 a.m. and 2:00 p.m. Eastern Time. "You will not have the opportunity to view other bids. You will not have the opportunity to change your bid once submitted," the auction notice states.
By 5 p.m. that day, the Marshals Service says that it will select and notify the highest bidder, who will then have until Aug. 23 at 2 p.m. to wire-transfer the funds in full from a U.S. bank. "Failure to provide the USMS with a copy of the wire transmittal receipt by the deadline will result in disqualification, forfeiture of the deposit, and award to another bidder," it says.
Dread Pirate Roberts' Treasure
This is the fifth bitcoin auction to be held by the Marshals Service. The most recent auction, in November 2015, involved 44,341 of the up to 144,000 bitcoins that were seized from Ross Ulbricht, a.k.a. Dread Pirate Roberts, which were mostly sold in auction blocks of 2,000 bitcoins each. Ulbricht was convicted of running the notorious darknet marketplace Silk Road and received a life sentence. Previous auctions have reportedly also sold bitcoins seized from Silk Road users.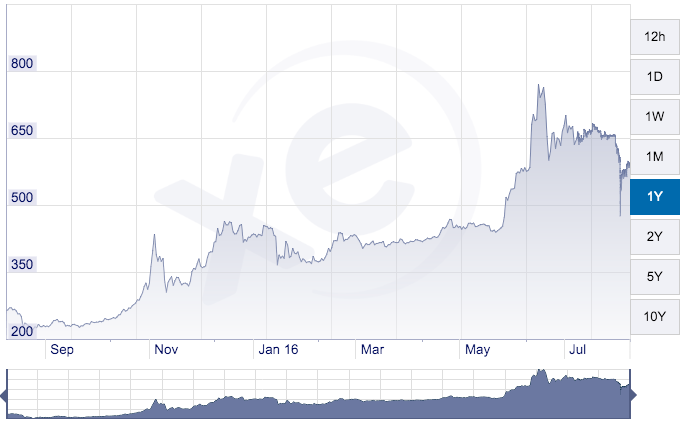 The value of a single bitcoin, in U.S. dollars, from August 2015 to August 2016. Source: XE Trade.
What makes this latest block of bitcoins special is that it includes not just bitcoins forfeited by Ulbricht, but also by Carl M. Force IV, formerly a special agent with the Drug Enforcement Administration who'd been assigned to a Silk Road task force. The 15-year DEA veteran pleaded guilty last year to stealing $820,000 worth of bitcoins while helping to run the U.S. government's investigation. In October 2015, he was sentenced to serve a 6.5-year prison sentence.
Anonymity Guaranteed
As with all things cryptocurrency, however, these bitcoins' provenance is no guarantee of their future value. Or as the Marshals Service says, "the USMS does not make any representations or warranties regarding bitcoin."
Appropriately for a pseudonymous cryptocurrency, however, the Marshals Service does promise anonymity. "The USMS will not release any information to the general public pertaining to the auction process or results, except for the number of registered bidders and the number of bids received."
Bitcoin fans: Start your bidding.