Governance & Risk Management , Healthcare Information Exchange (HIE) , HIPAA/HITECH
ONC's New Leader Lays Out Security, Privacy Goals
But Could the Presidential Election Have an Impact?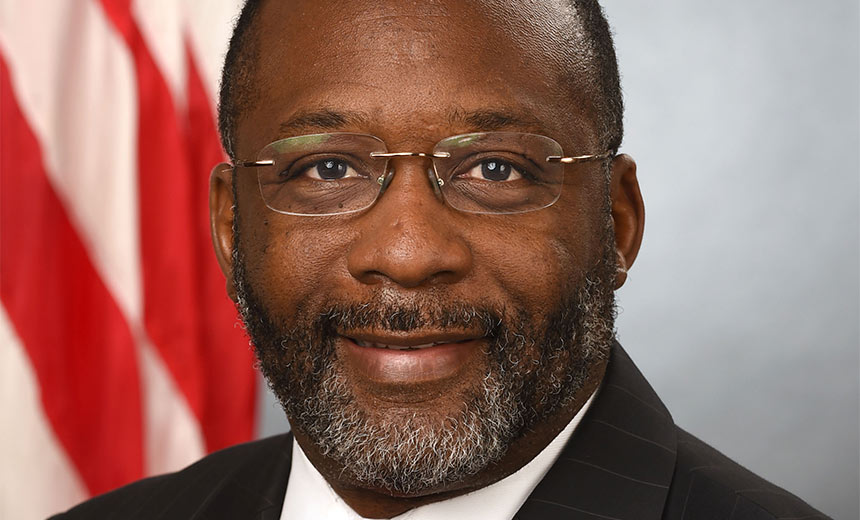 B. Vindell Washington, M.D., the new leader of the Office of the National Coordinator for Health IT, pledges to continue the agency's push toward standards-based interoperable, secure health data exchange as a way of improving healthcare.
See Also: Now OnDemand | C-Suite Round-up: Connecting the Dots Between OT and Identity
That was the clear message I heard in Washington's Sept. 19 media briefing. But whether that push will continue under the next presidential administration remains to be seen.
"The work we have to do to in the short term is really around increasing the flow of information."
Washington took over leadership of ONC in August from Karen DeSalvo, M.D., who had headed ONC since January 2014. She has finally transitioned into a new full-time role as acting Department of Health and Human Services assistant secretary for health, a role she had been juggling for more than a year along with her ONC job.
Before being named to the top ONC post, Washington had been principal deputy national coordinator. Prior to that, the physician had been president of Baton Rouge, La.-based Franciscan Missionaries of Our Lady Health System Medical Group and also its medical information officer.
Evolving Goals
Washington takes the top job at ONC in the final months of the Obama administration. And the next presidential administration could potentially make big changes, including funding cuts, at HHS and its ONC unit.
But despite that uncertainty, one thing is clear: Thanks to the more than $30 billion worth of HITECH Act financial incentives for the adoption of electronic health records, the legacy of ONC under the Obama administration will be its role in creating guidelines - including security requirements - for the digitization of patient health information.
Prior to the HITECH Act funding, the majority of U.S. healthcare providers were still predominately stuck in paper-based patient record-keeping processes. Today, about 98 percent of hospitals and about 75 percent of physician offices have adopted electronic health records systems, Washington noted in his press call.
And with that EHR foundation firmly in place, the focus of ONC has been pivoting to the next level of foundation - advancing the secure flow of data among healthcare providers as well as enabling patients to access to their health information as required under HIPAA, he said.
"I believe the work we're doing in information sharing is foundational work to a number of the [Obama] administration's priorities," Washington said.
For example, health data exchange is critical to healthcare payment reform as well as the Precision Medicine Initiative, which aims to help develop personalized medical treatments for patients with diseases such as cancer.
"The work we have to do to in the short term is really around increasing the flow of information - empowering patients in this space to have their information and be able to send it forward for purposes they choose," Washington said.
ONC will continue to work closely with the HHS Office for Civil Rights to clarify that HIPAA, indeed, allows covered entities to exchange health information and provide it to patients, the new ONC leader said.
"There has been some resistance in information flow because people don't understand the rules as they should. So getting the word out these last few months is important."
Other Priorities
Under the banner of interoperable, secure data exchange, Washington highlighted a few other privacy and security topics, including:
Patient identification matching: ONC is encouraged by some of the progress being made by private sector organizations in seeking innovative ways to address the challenge of matching the right patient with the right records, he said.
Blockchain: ONC is studying the potential role that the technology beyond digital currency could play in advancing secure information exchange. It has selected 15 papers submitted in a recent competition that will be spotlighted during a two-day blockchain workshop next week.
Cyber threat information sharing: ONC and another HHS unit will award grants to support one information and sharing analysis organization, or ISAO, that has bidirectional capability to improve the exchange of cyber threat information.
Healthcare Sector Challenges
The healthcare sector is facing many of the same challenges that other sectors face, Washington noted in his press briefing.
"Privacy and security is a challenge across many industries. Healthcare is no different," he said.
Under the HITECH Act, ONC has been carefully crafting its health IT certification rules for the EHR incentive program so that privacy and security requirements are "front and center," Washington said.
"Privacy and security, like a lot of areas on the IT frontier, require a collaborative, team approach moving forward. There is some pressure that the information sharing we're pushing for puts on privacy and security, but there's so much promise in that space, that we think it's important to lean in on the areas like the [HIPAA] security standard."
Once the next president takes office, ONC hopes to continue to advance health information exchange for the betterment of patient care - but hopefully not at the expense of patient data privacy. Will the new administration see ONC's mission as a priority and advocate on it's behalf? We'll have to wait and see.