Incident & Breach Response , Managed Detection & Response (MDR) , Security Operations
Marissa Mayer Bids Adieu to Yahoo
Verizon Closes Acquisition with Discount Following Record-Setting Data Breaches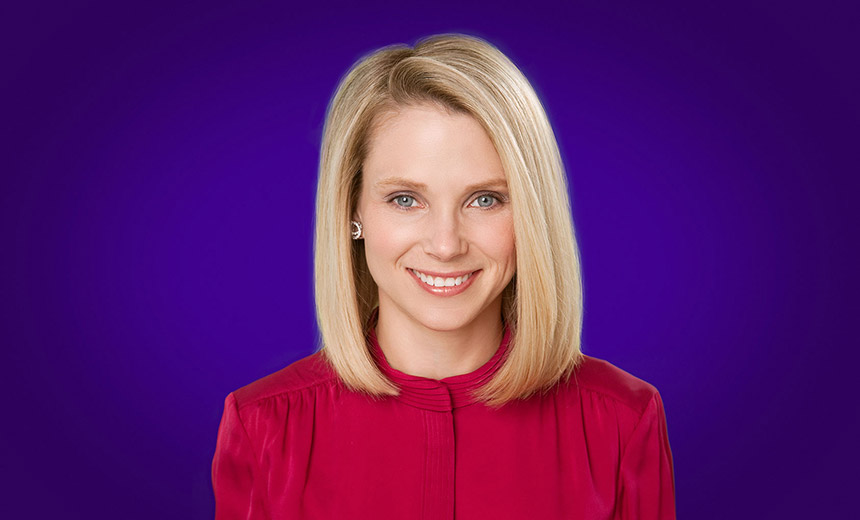 Marissa Mayer is bidding adieu to Yahoo, and walking away with at least $250 million.
See Also: Attack Surface Management: Improve Your Attack Surface Visibility
On Tuesday, with the official close of Verizon's acquisition of Yahoo for $4.48 billion, CEO Mayer announced that she would exit not just the board - as she had previously indicated - but the company altogether.
With Yahoo's acquisition by Verizon completed, and Mayer's exit, the Silicon Valley experiment that was Yahoo's resurgence is officially over.
"Given the inherent changes to my role, I'll be leaving the company," Mayer said in a Tuesday post to Tumblr.
"Verizon wishes Mayer well in her future endeavors," the company said in a statement.
Don't pity the jobless CEO. After Yahoo's acquisition by Verizon closed, Mayer was due to receive $23 million in severance compensation (see Despite Breaches, Yahoo CEO Gets Golden Parachute).
All told, however, Mayer stands to walk away with over $250 million. As of April, she owned 4.49 million shares of common stock in Yahoo, according to an SEC filing by the company. At the Tuesday closing price of $52 per share, that would have made Mayer's stock holdings worth $233.5 million.
Say Hello to Oath
Verizon will combine its AOL business with various Yahoo properties into a new subsidiary named Oath. It will include HuffPost, Yahoo Sports, AOL.com, Tumblr, Yahoo Finance and Yahoo Mail, among other properties. Oath is helmed by Tim Armstrong, former CEO of AOL.
The parts of Yahoo that were not sold to Verizon will be renamed as Altaba.
Mayer's exit has long been suspected. Her move follows the conclusion of a board-commissioned, independent investigation into a 2014 security breach that Yahoo suffered - which compromised a record-setting 500 million users' accounts - on her watch, although the severity of it was not fully understood until after Verizon offered to purchase Yahoo (see Massive Yahoo Data Breach Shatters Records).
In March, the investigation concluded that the company's senior executives and legal team had failed to properly comprehend or investigate the severity of the attack when it came to light in 2014.
After the results of the investigation were delivered, Yahoo's top lawyer, Ronald Bell, resigned immediately without severance pay.
Yahoo's board of directors announced that it was canceling Mayer's 2016 cash bonus, worth $2 million, and that it accepted her offer to forego any 2017 equity award, "given that the 2014 security incident occurred during her tenure." The equity award could have been worth up to $12 million (see Yahoo CEO Loses Bonus Over Security Lapses).
Ultimately, the U.S. government charged four individuals in connection with the 2014 hack - two employees of the Russia's FSB state security service as well as two men who allegedly worked for the FSB.
The 2014 breach was separate from an August 2013 breach, which compromised 1 billion accounts, again during Mayer's tenure, and only came to light late last year thanks to a law enforcement tipoff. Yahoo still has revealed no information relating to the potential identity of the attackers.
Verizon in July 2016 offered to acquire Yahoo for $4.83 billion. After the breaches came to light, the deal was delayed, pending Yahoo's investigation. Verizon ultimately negotiated a $350 million reduction in the purchase price.
Yahoo's Failed Resurgence
With Yahoo's acquisition by Verizon completed, and Mayer's exit, the Silicon Valley experiment that was Yahoo's resurgence is officially over.
In 2012, after burning through four CEOs in four years, Yahoo's board of directors hired 37-year-old Mayer, a former Google vice president with extensive online search and advertising experience.
Yahoo's board of directors said it selected Mayer because "she stands for the user." Someone with knowledge of the hiring process told The Wall Street Journal at the time that unlike previous CEOs, Mayer brought a wealth of consumer focus to the role.
Mayer's hiring was seen as a daring move by some commentators, but also appeared to be a bit of a gamble for the once-mighty web portal, which had struggled and failed to find a way to reinvent itself. Indeed, as it battled rivals such as Google and Facebook in the search and online advertising sphere, Yahoo's star waned.
Early on, Mayer signaled changes aimed at doubling down on Yahoo's successes and appealing to new markets. Quickly, she acquired the Tumblr blogging platform for $1.1 billion and finally upgraded the photo-sharing site Flickr, including rolling out long-overdue updates to its mobile apps. Tumblr, in particular, enabled Yahoo to target younger users.
In July 2013, Yahoo achieved the unthinkable, for the first time in two years outperforming Google. During Mayer's tenure, Yahoo also acquired more than 50 properties while also attempting to create a Yahoo online digital publishing brand, bolstered by the likes of Katie Couric and David Pogue.
But by the time Verizon came calling, Yahoo was on the rocks, and Mayer's leadership in question. Analysts warned that its advertising revenue was falling and that it would likely continue to lose out to Google and Facebook. In other words, Yahoo's best - and perhaps only - way forward was to get sold.