Kerry Sees Cyber as 21st Century Nuke
New Secretary of State Calls for Cyberdiplomacy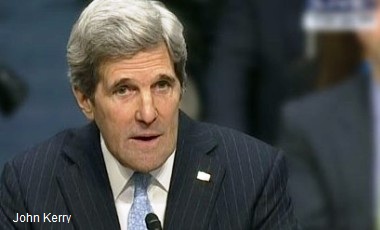 The outgoing U.S. secretary of state, and her successor, agree that cyberthreats represent one of the greatest foreign challenges the United States faces.
See Also: Live Webinar | Zero Trusts Given- Harnessing the Value of the Strategy
"I guess I'd call it the 21st century nuclear weapons equivalent," John Kerry, the longtime Massachusetts senator testified during a hearing last week on his nomination to be secretary of state; the Senate confirmed Kerry on Jan. 29. "And that we are going to have to engage in cyberdiplomacy and cybernegotiations, and try to establish rules of the road that help us to be able to cope with this challenge."
There's a long list of grievances with respect to what this marvel of the Internet and the technology age has brought us.
A day earlier, in a House hearing investigating the Sept. 11 terrorist attacks of the U.S. consulate in Bengasi, Libya, which left four American diplomats dead, Rep. William Keating, D-Mass., asked Secretary of State Hilary Clinton: What's needed in regards of cybersecurity to protect American interests?
'Really Thoughtful, Comprehensive Review'
Clinton answered: "You mentioned a word that is rarely mentioned in these hearings, but I predict will be a major threat to us and that's cyber, because it's not only going to be nation-states where we already are seeing cyber-intrusions, both against our government and against our private sector, but increasingly non-state actors will have more capacity to disrupt, to hack into, to put out false information, to accuse the United States of things that can, you know, light fires before we can put them out.
"So, you know, I think it's important we have a really thoughtful comprehensive review about the threats of today and the threats of tomorrow. And that will help guide the committee, it will help guide the Senate and certainly the administration in working together to answer them."
Kerry, prompted by a question posed at his confirmation by Sen. Richard Durbin, said the Illinois Democrat "hit the nail on the head with respect to a significant cyberthreat."
"Every day, while we sit here right now, certain countries are attacking our systems," Kerry said. "They are trying to hack in to classified information, to various agencies of our government, to banking structures. Money has been stolen from accounts and moved in large sums from entities.
"I mean, there's a long list of grievances with respect to what this marvel of the Internet and the technology age has brought us. But it's threatening. It is threatening to our power grid. It's threatening to our communications. It's threatening, therefore, to our capacity to respond.
"And there are people out there who know it, and there are some countries that we're currently engaged with - and all the senators know who they are - who have a very good understanding of this power and who are pursuing it."
Coupling Diplomacy with National Interest
The secretary of state-designate said cybersecurity poses a diplomatic challenge.
"There are enormous difficulties ahead in that because, as you know, and I think I'll just be very brief about it, I think most diplomacy is an extension of the particular nation's interests, and in some cases it's an extension of their values," Kerry said.
"And sometimes you get a terrific opportunity to mix the two, and then you really can do things that meet all of your aspirations," he said. "But sometimes, you know, you're more weighted towards the interests than the values. And you can all pick different countries and different things we've done that meet that.
"This is one where we're going to have to find a way to address the interests of other states to somehow find common ground, if that makes sense. And, you know, we're just going to have to dig into it a lot deeper. I don't have a magic silver bullet to throw at you here today."
Even without having a silver bullet, cybersecurity is a projectile Kerry will face. As Durbin told Kerry, cybersecurity is a 21st century challenge. "When you become secretary of state, which I believe you will and hope you will, this will be front and center."